Lee raising funds for Me to We
Posted on February 10, 2016 by Sunny South News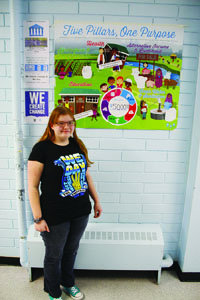 By Stan Ashbee
Sunny South News
Coaldale Kate Andrews High School (KAHS) Grade 11 student Abigail Lee would like to raise enough funds to travel to Tanzania for 20 days from June 30 to July 19 for the We Create Change Me to We initiative. "To help create sustainable development in a community there. I'll be helping to build a school or help with one of the other Free the Children projects by maybe digging a well or building a school cafeteria or something to help create sustainable development," said the 16-year-old fundraiser.
According to Lee, she will be hosting a community event to raise funds for the trip in the weeks to come but she is presently working on the details. "The trip costs $5,495, which I need by Mar. 31. I have already put towards more than $1,000 through working a part-time job and delivering papers every morning," she noted.
Lee has a web page residents of Coaldale and area can donate to https://fundraise.metowe.com/c/abigail-lees/#/— and she has approached businesses in the community for support and possible sponsorship. "I went to RBC as RBC is a national sponsor, to see if they would help sponsor me. I'm still waiting to hear back from that," said Lee, adding this is the first time the student has been involved in a personal fundraising project such as raising funds to travel to Tanzania. KAHS, Lee said, is fundraising to build community in Tanzania this year. "I want to go and see the impact we are making as a school group and see the impact I am making in this community," she said. Even though Lee will be travelling on her own, there will be other Albertans travelling to the area, as well.
Lee has been a dedicated volunteer over the years in her community of Coaldale. She has volunteered at the Lethbridge Soup Kitchen and at the Coaldale Public Library and she also sits on the Coaldale Youth Action Committee.