Potato-palooza at the Lethbridge Research and Development Centre
Posted on February 16, 2016 by Sunny South News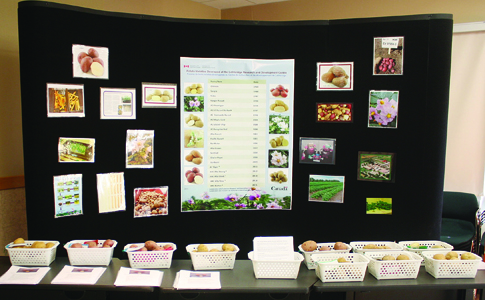 By Stan Ashbee
Sunny South News
Salted fries immersed in ketchup, mashed potatoes slathered in gravy and potato chips double-dipped in a plethora of flavoured dips are indeed a staple in the homes of many southern Albertans. The humble but yet mighty potato can be used in a variety of ways to feed the planet and rightly so, should be celebrated. They're spud-rrific!
On Feb. 10, Agriculture and Agri-Food Canada (AAFC) gave southern Albertans the chance to check out the latest 16 new varieties of potatoes being released this year at a Potato Selection Release Open House at the Lethbridge Research and Development Centre. A few include the pink spud and the French fry super performer.
According to AAFC, one is a potato that not only stands out on the plate but is a nutritional stand-out. It's dark pink flesh and red skin is rich in antioxidants.
Another could be a French fry lover's dream, allowing farmers to increase yields of the type of potato used by fry processors by as much as 35 per cent — when compared with the industry stalwart Russet Burbank.
AAFC stated the selections were narrowed down from more than 120,000 hybrid seedlings grown and tested and measured over six years in AAFC greenhouses, laboratories and fields across the country. The selections are the result of continuing technological advances allowing AAFC researchers to probe the complicated DNA of potatoes to identify genes and strands of DNA linked to traits of interest, leading to germplasm with better yields, nutrition and cooking and processing qualities. The selections, according to AAFC, also feature disease and pest resistance that make them less demanding on the environment. With each genetic marker identified, researchers are able to more quickly and accurately search through hundreds of different kinds of potatoes, including centuries-old heritage varieties and wild species, for potential breeding candidates that will produce new hybrids with the desired traits.
Yves Plante, associate director for the Lethbridge Research and Development Centre, said the open house is the one time of the year the centre can welcome people involved in the potato industry, not only from the science side, but from a user side including those responsible for marketing and processing potatoes.
"This is an early release of new varieties. It's very important for us. It's showcasing what we do for the sector and we do this in a very friendly and open manner. I think it's one of the rare occasions where we can actually sit down with the scientists and the users," Plante noted.
Susan Smienk, potato breeding research technician, Sustainable Production Systems at the Lethbridge Research and Development Centre, said what happens after the unveiling of new potato varieties is growers will apply and get a small sample of these new varieties.
"Then they will be able to start doing an evaluation, as well, in their fields or locations where they are growing potatoes," she added.