Get married locally
Posted on April 5, 2016 by Sunny South News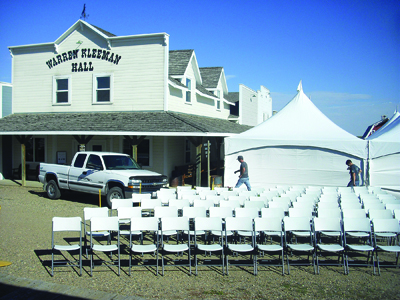 By Stan Ashbee
Sunny South News
Getting hitched in the future and need a great venue for the nuptials and reception to follow? There's a few local Lethbridge County-located attractions to suit all your needs, especially when couples are ready to tie the knot including Coaldale's Gem of the West Museum and Coyote Flats Pioneer Village at the Prairie Tractor and Engine Museum near PIcture Butte. But both venues are open to a plethora of planned events.
According to Stephanie Wierl, community services manager for the Town of Coaldale, the Gem is open to the public for all event rental needs.
"We have hosted many events from meetings, to reunions, weddings and concert events. Our large historical space provides theatre-style seating for up to 300 guests and up to 175 guests for tabled seating. Tables, chairs, stage lighting, sound system, projector and kitchen dinnerware items are all included in your rental fees," she noted.
Wierl explained historically speaking, the Gem is the old Mennonite Brethren Church built in the late 1930s and its charm, history and architectural feel provide an excellent back drop for any event.
"The Gem also provides a unique opportunity for you and your guests to tour through the exhibits throughout the day or evening. The curved roof architecture offers up excellent acoustics, which make musical events come to life," Wierl said.
Couples, Wierl said, are looking to do something different, rather than just a typical hall-type wedding.
"They are looking for that charm, the special touch a unique building such as the Gem provides. We also have couples whose parents or family members attended and/or were married in the Mennonite Brethren Church, a special touch to an already special day," she added.
For more information about the facility, Wierl said, call 403-345-1324 or stop by the museum Monday-Friday from 9 a.m. to 12 p.m. or 1-4:30 p.m.
"We'd be happy to answer any questions you may have, as well as take you through the facility to showcase the options you have," said Wierl.
Wierl added the earlier the facility is booked for an event, the better. "Weekends book up quickly throughout the year. We book as early as two years out for rentals."
Stay tuned for updates to the outdoor patio spaces surrounding the Gem — that will add to any special event, Wierl said.
Last year at Coyote Flats Pioneer Village, General Manager Pieter van Ewijk noted, had close to 15 weddings. Other events included family reunions, memorial services, and meetings.
"But weddings are the most fun," he said.
Sometimes, Ewijk added, couples might rent the old church on location for the ceremony and the reception is held at Kleeman Hall.
"We do offer some flexibility and scenery. I have seen some of the wedding pictures taken over the years and it's phenomenal. It's a very nice site. If you're into history or into country western-type stuff, this is a great place to have your wedding," Ewijk said.
According to Ewijk, he can't recall hearing anything negative about the venue for weddings or other events.
"The reviews are, 'what a great place to have a wedding.' We kind of stay in the background and often encourage people to set up their own tables and decorations but we're here to accommodate if there's any other requests. We often hear how accommodating the staff are, what a beautiful site to have pictures taken and that sort of thing," he noted. A kitchen is also available for functions.
Predominantly, Ewijk said, Coyote Flats has couples having traditional weddings, which include a church.
"Again, it's up to the bride and groom. We can accommodate anything they really want and in some cases we open up the buildings if they want to have some pictures taken inside," he said.
To learn more about the facility contact the office at 403-732-5451 or visit online at coyoteflats.org for rate schedules and event listings.