Doc Walker's small town connection
Posted on April 19, 2016 by Sunny South News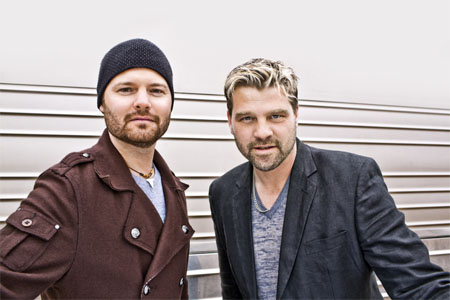 By Stan Ashbee
Sunny South News
Coaldale welcomes one of the most recognized Canadian country music acts Doc Walker May 14 to the Coaldale Sportsplex — presented by the Kinsmen Club of Coaldale.
Doc Walker has over 20 Top 10 singles, has received multiple Canadian Country Music Awards for Fans' Choice, Group or Duo of the Year, CMT Video of the Year, Single of the Year and Country Music Program or Special of the Year. Doc Walker has also been nominated for several Juno Awards including a win in 2009 for the Country Album of the Year "Beautiful Life."
"We're really excited. We've been talking about doing some small town touring for probably five years. It's amazing how hard it is to actually to get off the ground. You think it would be easy just to go jump in a bus and go play somewhere but being from Westbourne, Man. — which is a town of about 50 people, every other town is big compared to this one," joked lead vocalist Chris Thorsteinson.
But, the singer added, the band did a little street dance in the small town a few years back and close to 2,500 fans showed up.
"That's when we realized we need to get to these smaller places to reach the people that really enjoy and love country music," he said.
For parts of April and May, Thorsteinson said, the band has about 12 small town gigs on the weekends.
"It's nice to get to the smaller places," he said, adding country music is built on people that live in small towns across the country.
One thing is for sure — the band won't be skimping out because its playing smaller venues including Coaldale.
"We're bringing a full PA and lights and trying to put on the best possible show we can. That's what Doc Walker has really tried to do," he noted.
Thornsteinson added he took his family into Winnipeg recently and went to dinner and a movie and the movie was terrible. This got the musician thinking about spending money on something that isn't any good.
"I thought I hope people don't think like that at our shows," he joked.
Every night when the band gets up on stage, Thorsteinson said, the band has always thought fans' time is important. "In this day and age and the economy you always want to make sure people feel they are satisfied when they come to a show," he said.
As for the live Canadian music scene, Thorsteinson believes it has changed quite a bit. "When we used to tour 15-20 years ago, we would go play Lethbridge, Calgary, Edmonton, Red Deer and we could tour 300 days a year in bars and play five or six nights a week. That's gone, that really doesn't happen anymore, which is unfortunate," he noted, adding in regards to that, it's died out.
But, Thorsteinson said, he believes when it comes to Canadian acts touring — many Canadian acts including Emerson Drive and The Roadhammers — are still out on the road trying to liven it up and not just in major cities.
"We'd like to hit these smaller places to kind of put a little life back into the rural area," he said.
Doc Walker-wise, Thorsteinson said it's an exciting time right now for the band. "We've decided to do, I don't want to call it a greatest hits record, but it's more of a 20/20 record we're calling it. We've got a tour in the fall lined up where it's like 20 cities, 20 hits in 20 years. And we've got a new song that's going to be on this project called, 'Heaven on Dirt.' I live in a farming community in Manitoba and the new record is really kind of based around life in the prairies and the mid-west. It really does have that heartland kind of feel to the new album. To be able to go out to the prairies and play a lot of these smaller places is good to get our music out there because that's really what it's based around," he said.
Tickets for Doc Walker are $45 and are available online at http://www.ticketweb.ca or at Van Rijn Electric in Coaldale. Show starts at 9 p.m. For more info call 403-345-5820. Proceeds from the concert go towards community-minded projects, through the Kinsmen Club of Coaldale.