Get F.I.T. Go Far!
Posted on April 19, 2016 by Sunny South News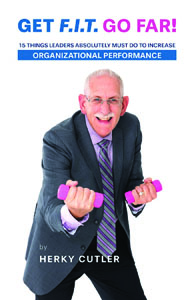 By Stan Ashbee
Sunny South News
"Get F.I.T. Go Far!" is the title of Herky Cutler's first book, officially released Mar. 22.
Cutler is a southern Alberta professional speaker, trainer, mentor and multi-faceted musician and is indeed no stranger to Lethbridge County.
Cutler, who calls southern Alberta home, when not out on the road training the business masses, said the book took just over two years to complete.
"It's a book for organizational leaders — managers, supervisors, team leaders and CEOs. It's a book filled with tips and experience to help them make their organization perform better," Cutler explained.
According to the first-time author, the book is split into three sections. And that's where the "F.I.T." comes from — "F" stands for future, "I" stands for identity and "T" stands for team.
"But really, almost everything relates to people. It's all about people — how you treat your customers. When we're talking about customers, we're talking about people you serve but also your internal customers, meaning your staff and the people that serve you. The book really has an emphasis on you need to take care of people," said Cutler.
The new opus is geared towards any business — small, medium and large and can be for non-profit and the corporate world.
"Just tips and tricks for any leader, really," he added.
Cutler initially wrote the book, he said, because as a professional speaker a book is almost a must have.
"When you have a book, there's a sense you're more credible. For me, the purpose of the book was to get more speaking engagements and get more work that way," Cutler said.
As for sales of the book, Cutler noted the book will not be physically available in stores but can be purchased online through the publisher and Amazon in hardcover, softcover and e-book formats and the author will be selling the book at speaking or training engagements.
As for the music part of Cutler's life, he would like to continue performing at gigs at least once a month with a recent performance in Fernie, B.C.
Training-wise, Cutler is open to any locales or venues in Alberta or throughout Canada and the U.S. and abroad.
Cutler offers career development training to help career practitioners become better at their work.
"But now they'll be training around the book," he said. "Each chapter is a stand alone topic and each chapter could essentially be a training course or keynote talk," Cutler added. For more information about the author or his latest book visit http://www.herkycutler.com.