Emergency prep night
Posted on May 10, 2016 by Sunny South News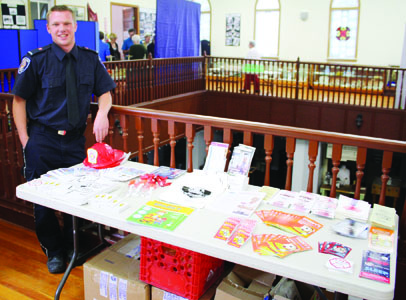 By Stan Ashbee
Sunny South News
With a wildfire still burning in and around Fort McMurray last Thursday night, emergency preparedness was on the minds of most southern Albertans.
The Town of Coaldale held an Emergency Preparedness Night at the Gem of the West Museum to raise awareness about being prepared for emergencies including learning how to assemble a 72-hour emergency preparedness kit. Red Cross, Atco, Fortis, Alberta Health Services, Coaldale Emergency Services and other organizations were on hand to chat with residents and spread the word about being prepared in an emergency. "For Emergency Preparedness Week we just wanted to educate and give people in the community a place to get information all in one spot and learn about being prepared for emergencies and be ready themselves and not expect someone else to be doing it for them," said Deputy Mayor Sherrie Duda, who spearheaded the event this year and last. People do need to be prepared, said Duda. Documents, medications, even pet food are important to be included in a prep kit and to have when needing to leave home in an emergency situation.
Acting Fire Chief Gary Gettman said it's good to have residents come out and see what different agencies in town and in southern Alberta can offer and what people can do to protect themselves. "They have to take the initiative on their own to get things set up an organized and take care of themselves," he noted. When a disaster strikes close to home, such as in Fort McMurray, it heightens the awareness of being prepared in an emergency. "It does happen. You hear this in the news and it happens across the world but it's happening in our own backyard right now. This is real and this is what happens and you have to be prepared for this." Gettman said.