Helping our friends in Fort McMurray
Posted on May 10, 2016 by Sunny South News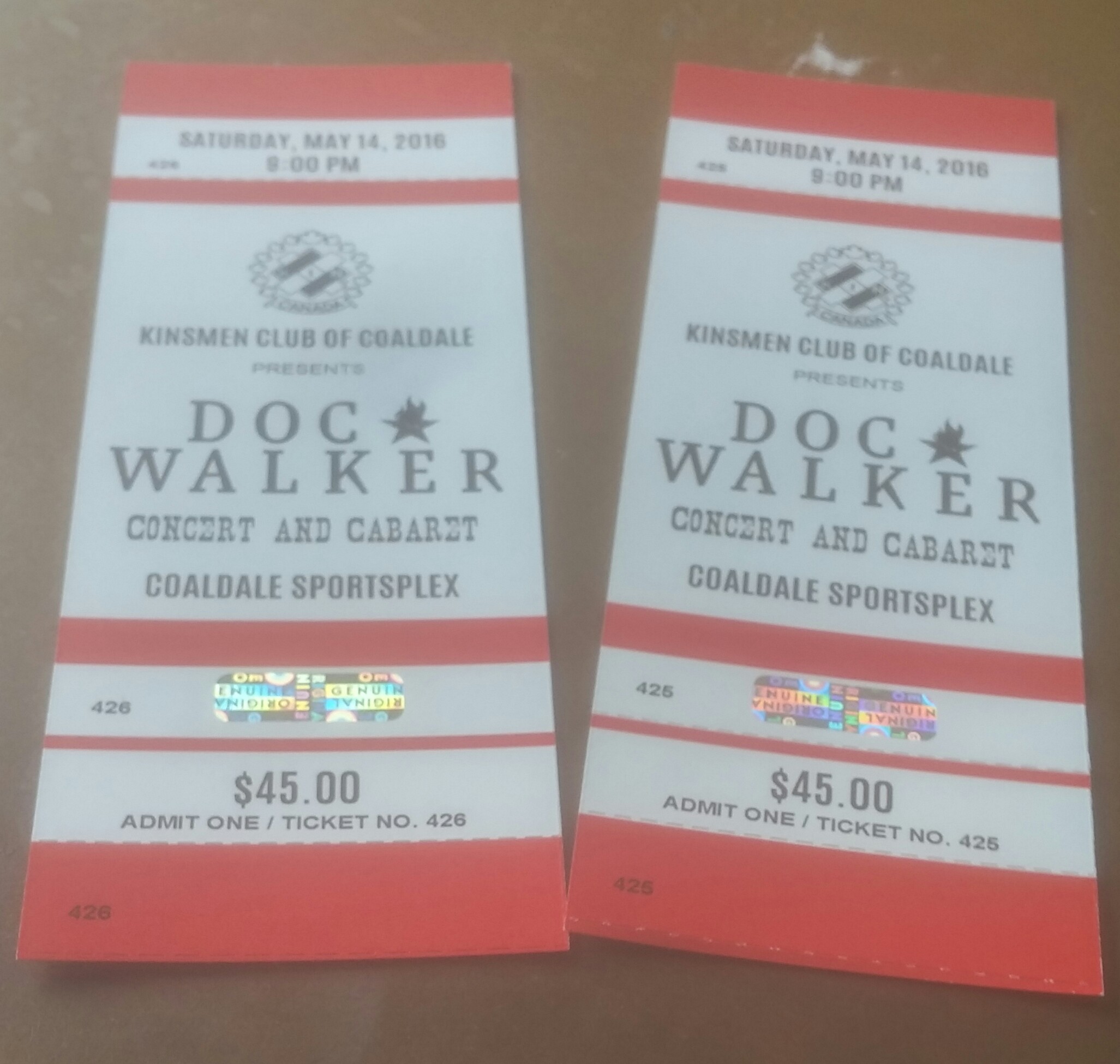 Doc Walker fundraiser
Coaldale residents and local organizations are stepping up to the plate to help out their fellow Albertans in need, as a devastating wildfire has left an entire community in ashes. The Kinsmen Club of Coaldale recently announced a fundraising concert featuring Canadian country act Doc Walker this Saturday at the Coaldale Arena. Now, the event will be a benefit concert for the Fort McMurray fire relief effort and proceeds will be donated to the Canadian Red Cross.
"We have one member that's still a member and one former member, plus he also used to be on the Coaldale Fire Department. He's up there right now fighting the fires and everything else. We're not sure if he's actually lost his house. We know the other member has lost his house," said Brad Calder, last Thursday. Calder is from the Kinsmen Club of Coaldale and is the Doc Walker event chairperson.
Calder added he knows there's going to be a lot of families in Coaldale that have family or friends in Fort McMurray that have lost their homes.
Kin Canada, Calder noted, is creating a full foundation — where all the Kin Clubs involved with fundraising can donate funds to the foundation.
"And then we can decide what that money goes to. If they need a new school up there, we can say we want most of these funds to go to that new school for them or we can say we need these funds to go to this. Another thing is they can donate it to the Fort McMurray Kin Club and they can use it where it's needed to build new parks and revitalize. It's all going to be going up within our club," he said.
"Basically, all our profits from the concert will go straight to the relief program," Calder added.
Doors open for the show at 8 p.m. and the concert kicks off at 9 p.m. Tickets are $45 and are available online at ticketweb.ca or at Van Rijn Electric in Coaldale. For more info call 403-345-5820.
BBQ fundraiser in Picture Butte
This Wednesday from 6-8 p.m. the Picture Butte Emergency Services Fire Association is hosting a Community Barbecue Fundraiser at the Picture Butte Fire Hall. The funds raised will go to the Red Cross for Fort McMurray. There will be a $5 minimum donation.
Nobleford lends a helping hand
Last week, Nobleford Fire Chief Ryan Wagner said it is really good news the community has wrangled up around $10,000 worth of donations and essentials from families and businesses throughout the Village of Nobleford. "And it just seems to keep pouring in," he said.
Earlier last week, the village contacted Edmonton Emergency Relief Services and the organization noted items needed for Fort McMurray residents included water, toiletries (shampoo, conditioner, soap, toothpaste, toothbrushes, combs, brushes, deodorant, etc.), diapers, wipes, formula, new pillows plus blankets, underwear, socks, clothes, shoes, clothes hangers and boxes to make up care packages. It was also noted the SPCA in Edmonton could use dog food and cat food. The Edmonton Food Bank could use food donations.
A representative from the village said last week Edmonton Emergency Relief Services confirmed items were still needed and the organization forwarded a drop off location. "The Edmonton International Airport has given them a hanger to store supplies," the rep from the village noted.
Donated items can be dropped off at Nieboer Farm Supplies on Highway 519 west of Nobleford. A trailer is being filled, which will depart on Thursday.
Visit online to view a list of requested items, and for updated information:
http://nobleford.ca/2016/05/05/care-package-shipment/.