Alberta Birds of Prey Centre co-founder passes away
Posted on May 24, 2016 by Sunny South News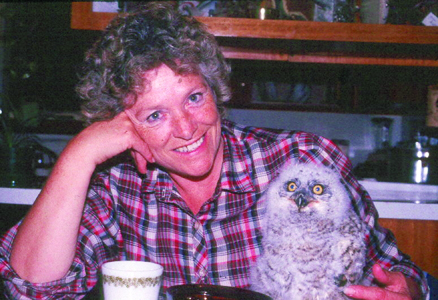 Alberta Birds of Prey Centre
Alberta Birds of Prey Centre Co-Founder Passes Away
It is with great sadness we inform everyone Wendy Slaytor, co-founder of the Alberta Birds of Prey Centre passed away in London, England on May 19 at the age of 83.
While Wendy was known in southern Alberta for her work with birds of prey, many people were unaware of her adventurous and interesting life that brought her and the Alberta Birds of Prey Centre to Coaldale.
In addition to birds of prey, Wendy also had a keen interest and expansive knowledge with horses. At Royal Ascot, which is Britain's most prestigious and valuable race meeting, one of her race horses won the Queen Mary Stakes in 1975. Her championship horse Rory's Rocket was eventually purchased from Wendy by the Queen Mother.
Wendy had been a practising and expert falconer since the late 1960s and her falconry journey took her across England, Scotland and even to Africa, visiting Egypt and Tunisia.
As part of her move to Canada in the late 1970s, Wendy and her former husband brought a large collection of birds of prey from England to Canada to establish a permanent falconry display at African Lion Safari in Cambridge, Ont.
In the early 1980s, Wendy headed west to join Colin Weir and together they set out to establish the Alberta Birds of Prey Centre in Coaldale.
Thanks to the help of MLA Bob Bogle, Wendy and Colin received special permission from Fish and Wildlife Minister Don Sparrow to start Alberta's first non-government volunteer wildlife rehabilitation facility.
In 1983, the Alberta Birds of Prey Centre started in Wendy's and Colin's residential backyard in Coaldale. The bird rescue operation then moved to a county acreage in 1987 and finally to its current location opening to the public in 1991.
For the first several years Wendy worked during the day as a care giver for Lethbridge Family Services and was loved by all of her clients. In the evenings and on weekends she volunteered her time caring for and training a growing number of injured and orphaned birds.
Over the years Wendy rescued, cared for and released countless injured hawks, falcons, eagles and owls and delighted many thousands of visitors at the centre.
In 1988, Wendy was presented with the Order of the Bighorn Award by the provincial government in recognition of her passionate contributions to Alberta's fish and wildlife.
While Wendy retired and returned to England in 2003 to live closer to her children and grandchildren, she would still periodically return to Coaldale in the summers, flying eagles even while in her 70s, and holding visitors spellbound with fascinating stories from her life adventures.
The Alberta Birds of Prey Centre is Wendy's living legacy to the region. The facility and all the diverse benefits it provides to the region simply would never have happened were it not for Wendy's commitment, kindness and passion for helping birds of prey and her desire to share it with people of all ages. Over the years, Wendy touched the hearts of many people and she will be dearly missed.
Donations in Wendy's memory can be sent to the foundation at Box 1030 Coaldale AB., T1M 1M8, or through the foundation's website at http://www.burrowingowl.com. A special fund will be established in her memory.