Care facilities for seniors harness the spirit of community volunteers
Posted on June 28, 2016 by Sunny South News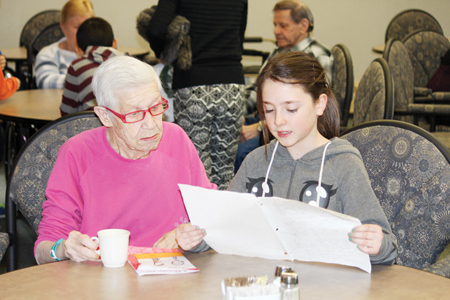 Care facilities for seniors harness the spirit of community volunteers
By Stan Ashbee
Sunny South News
Volunteers most definitely light up the spirits of residents at homes, lodges, and care facilities for seniors throughout southern Alberta. Piyami Lodge in Picture Butte and Sunny South Lodge in Coaldale, are no exception — when it comes to dedicated, fun-loving and caring volunteers of all ages. "We definitely have a strong volunteer presence here at Piyami, which is great," said Bobbi-Ann Orser, manager at Piyami Lodge. But, Orser noted, the activity co-ordinator takes care of all the volunteers at the facility. Orser is also new to her post — she started at Piyami June 6. Volunteers, Orser explained, are a big help to enhancing all the different activities and all Piyami is doing with residents.
 "Particularly when we have mixes with all the different ages of folks, it just gives us a different dynamic and different interactions socially for people — it's a benefit for the seniors," Orser said.
 According to Orser, volunteerism is indeed a great community builder because the world is living more and more in a digital age, where people are not interacting as much in person, in many cases.
"When you have a strong volunteer presence and people interacting in different activities, I think it just enhances the overall community," Orser added.
 At Sunny South Lodge in Coaldale — there's also a strong volunteer presence. According to Activity Co-ordinator Colleen Belter, there are about 15 regular volunteers working in different positions around the facility.
"I get people to call bingo for me, I get people to help residents with shopping, I have people who come in who are experts at card making, crafts — and sometimes just one on one. They come into visit with someone one on one. We have bus drivers," Belter added.
 Last year, Belter added up volunteer hours since she has a lot of people that also come into the facility to play music for the residents and sing too.
"It was over 1,000 hours. There's no way a person could actually do that much," she joked.
 By herself, Belter said, she couldn't do all the extra work. "There's no way. I feel a volunteer is an extension of my arm. I don't expect a volunteer to do anything I wouldn't do myself. They're absolutely priceless," said Belter, adding she isn't musically inclined, so she relies on volunteers to lend a hand in that aspect. "I don't know how I would manage without them," Belter added.
 Sunny South Lodge also has volunteers visiting the facility from local schools, after school programs and other organizations including the PLAY Program at Jennie Emery Elementary School in Coaldale, as students spend time with seniors. "I've set up some programs. They're here for an hour, so they're going to be with residents for that hour and we're going to do all sorts of different things. I'm hoping to do a tea party that makes them socialize a little more. This is the second year they will be coming," Belter noted. Belter said she has also started Precious Connections. "And that's little people, really little ones from zero to four or five years old. I've had them in twice. That is really, really quite something," Belter said.