Happy Birthday Robert Lee
Posted on July 5, 2016 by Sunny South News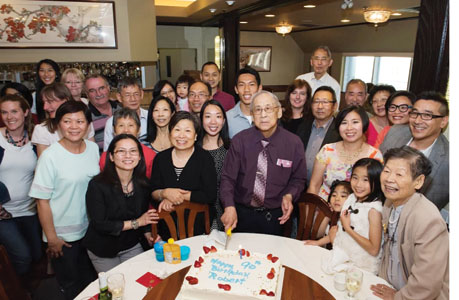 By Stan Ashbee
Sunny South News
Former resident and business owner Robert Lee, according to John McLaughlin, was a mainstay of Picture Butte and was a past Citizen of the Year.
"He just celebrated his 90th birthday party up in Calgary. A bunch of us old-timers from Picture Butte went to it," he noted, adding Robert lives in Calgary with his wife Fern.
"He looks healthy as a fiddle," joked McLaughlin.
About 40 friends and family members attended the soiree, which was held at a Chinese food restaurant in the city.
"He was really thankful everybody turned up. He was really happy. It was good to see him," he said, adding it's been a few years since he last saw Robert.
McLaughlin explained he was a neighbour in business to Robert in Picture Butte.
"He had Lee's Palace restaurant. It was his store that invented coffee row," he said.
Picture Butte Mayor Wendy Jones recalled when she was a teenager Robert had his restaurant in the Picture Butte Hotel and it was always a thrill to be able to go to Bobby Lee's for fries and gravy.
"Eventually, he built Lee's Palace on Highway Ave. His new restaurant became the hub of Picture Butte. He supported the community any way he could, and was always willing to help. Since he retired I have never eaten as good an egg roll as Robert served," Jones said, adding she wishes Robert a Happy Birthday.
"We wish you many more," she added.