Author's 101 picks in new book
Posted on July 20, 2016 by Sunny South News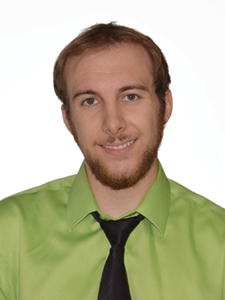 By Stan Ashbee
Sunny South News
Coaldale born author, freelance writer and screenwriter Ryan Uytdewillegen has released a non-fiction book entitled, "101 Most Influential Coming of Age Movies" and the novel "Tractor" will be released this fall.
The wordsmith currently calls Vancouver home, where he completed a writing for film and television program. He grew up on a family farm north of the Lethbridge County community.
After attending St. Joseph's School in Coaldale and graduating from Kate Andrews High School in 2010, Uytdewillegen graduated from the broadcast journalism program at Lethbridge College and worked for various radio stations in the city. Ryan is also a 4-H alumnus and self-professed avid traveller and loves coming home to southern Alberta.
According to the author and big film buff, his first published non-fiction film history book is focused on growing up and coming of age movies.
"I wanted to read a book one day on the subject and there wasn't anything available. That's basically what started that out. It was released in April. I began writing it at the end of 2014. I moved out to film school in Vancouver in 2014 and I was writing for film and television and that's where the book stemmed from. It covers the last 100 years in cinema and what the best movies on growing up were and how they each reflected each decade they were made in. It's reflective of the cinema, how that changed and how growing up changed in the last 100 years," he said, adding the book was published by Algora in New York.
Things have just been starting to kick off for the author but there's been a lot of self-promotion since the book's release earlier this year.
Ryan has also been writing a series of articles for the film website Taste of Cinema to promote his new opus. He will also be creating a few podcasts later this year and talking about his love of movies and how the book came to be.
His publisher will also be organizing a few book signing and promotional events and he will be visiting a book fair in Vancouver too.
At the end of last year in 2015, Ryan said, he optioned two scripts he wrote to two separate producers.
"They buy it and they have an allotted time to try and get producers and actors on board and the proper funding together — that's where I am now. But, I'm also working with some producers that bought one of the scripts, they hired me to write some more for them. So, I just finished those up," he said.
Ryan said he also just wrote the "Tractor" novel, which will be coming out in September.
"That one is definitely directly related to the small town upbringing," he noted, adding it's a lot of his thoughts and living near and growing up near Coaldale.