Walk On the Wild Side in Picture Butte celebrates
Posted on August 18, 2016 by Sunny South News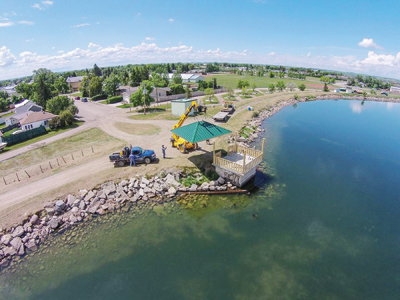 By Stan Ashbee
Sunny South News
According to John Kolk, president of the Walk On the Wild Side Society (WOWS), the upcoming WOWS Official Ribbon Cutting Ceremony Aug. 19 at the Picture Butte Reservoir at 2 p.m. is an opportunity to thank a bunch of people who helped fund the Walk On the Wild Side project.
"We're hoping to do the next little bit — getting an approach that is more wheelchair accessible next year or so," he noted.
Dignitaries invited include representatives from Lethbridge County, the Town of Picture Butte and local funders.
"People are invited and it's always good to recognize, as it takes a lot of people working together to improve the community. We think this is a nice little improvement," Kolk added.
The dream for Walk On the Wild Side was hatched about three years ago, according to Kolk.
"We did some fundraising and supporting groups came in to help us get started. We kind of got it 'up' almost a year ago now, we had the structure up and now we're fixing up around the approach. Now, we're starting to dream about our next step," Kolk said.
Kolk said the society now wants to work on accessibility, whether it's for seniors in wheelchairs or strollers. "We want to be able to get a hardened approach, so people can make the walk up and can access the new town bathrooms by the baseball fields," he said, adding the hope is to put in walking paths through the town.
"So people have different options for walking downtown," he added.
Thus far, the society is also happy with the new recreation plan the town is working on too.
"That includes walking — the paths. So, that's exciting it was recognized during the public consultation. It's something everybody can be involved in. It doesn't cost a lot of money or need a lot of equipment. And, walking paths make good neighbours," said Kolk.
When people start seeing each other on the street, they walk and talk, he said.
"We think we're achieving what we hoped to achieve. We've had good support from the county, the LNID and the town," he said, and they continue to offer support.
Community members also support the initiative and enjoy watching the birds and getting exercise or walking their dogs.
"I think use has definitely increased. There's hardly a lunch hour I don't see somebody up in the gazebo having lunch or sitting for a few minutes. It's definitely being used," he said.
WOWS users, Kolk noted, are also putting garbage in the garbage cans and keeping it clean, which is appreciated.