Walk On the Wild Side recognized with ceremony
Posted on August 23, 2016 by Sunny South News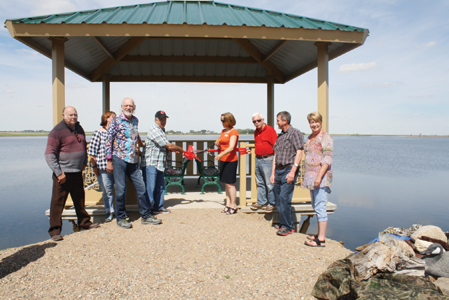 By Stan Ashbee
Sunny South News
A heartfelt thank you was given by Walk On the Wild Side Society (WOWS) Committee member John Kolk last Friday afternoon, as he welcomed residents, town staff, local municipal council members and representatives from local organizations to the official ribbon cutting of the walk and gazebo, after the dream was realized to do something with the slab of concrete located at the Picture Butte Reservoir.
"That's obviously happened now. We had support from our community and the other thing I wanted to mention was we've got a lot of people starting to walk here, just about every lunch you'll find somebody eating lunch here. We're starting to see an improvement in our community because the access of both nature and some walking areas," he said. The three most recreational pursuits these days, Kolk noted, are bird watching, gardening and walking. "We've got two out of the three here. We're really appreciative of the people who had the vision to support us," he said, while recognizing the Lethbridge Foundation for a grant, Lethbridge County for a recreation grant, the Lethbridge Northern Irrigation District (LNID) — the owner and manager of the reservoir and the area along it — and the Town of Picture Butte.
It is hoped, Kolk said, the society will receive permission from the town and other supporters to move forward on the next phase of WOWS, which is to make it more accessible. "We have more work to do. We need more money, we need more support and we need some permissions from LNID and from the town. We have seniors and daycare and what not that would really like to be able to walk up a little piece of a pathway then trying to walk up the little hill. That is their next project," he explained.
On behalf of the Town of Picture Butte Mayor Wendy Jones said a big thank you was in order for Kolk and all the members of WOWS for the endless hours of volunteerism and participation in the project.
"For our community to have something like this. Thank you," she said.