Here comes the boom — Coaldale RCMP take precautions with old dynamite
Posted on August 26, 2016 by Sunny South News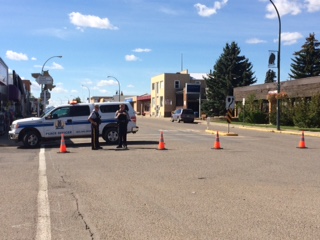 By Stan Ashbee
At about 2 p.m. Friday (Aug. 26) afternoon a woman arrived at the Coaldale Municipal RCMP Detachment in a van and reported to front staff she found a stick of dynamite at her residence.
"She brought a stick of dynamite to our detachment. The dynamite, to our understanding, is still in the vehicle she drove to the detachment with. As a precaution, we've asked business owners and the staff of town hall to leave their business and leave town hall. We basically evacuated about a block area just as a precaution," said Staff Sergeant Glenn Henry. Part of Coaldale's main street near the downtown core was blocked off Friday (Aug. 26) afternoon.
According to Henry, the Coaldale RCMP have been in consultations with the RCMP's explosive demolition unit and the unit will attend the scene and assist with the safe removal and demolition of the dynamite.
"This will be a long hurry up and wait process. Unfortunately, our explosive unit will have to come down from Edmonton. I'm not 100 per cent certain but I believe they may fly down to assist us. They will come down and look over the scene, as safely as possible, and try to render the dynamite safe," he added.
The RCMP is asking residents to stay away from the area until the location is rendered safe.
Henry noted it is the department's understanding older dynamite can be unstable.
"Our advice was not to move the van — to leave it as is and allow the people properly trained in the safe rendering of explosives to assess the scene and do what's appropriate," Henry said.
As a warning, Henry added, if residents happen to find explosive devices such as dynamite — do not move the explosive device but contact the police department and the department will send someone to the location to assess the situation.