Coaldale mayor gets a bird's eye view at release
Posted on September 6, 2016 by Sunny South News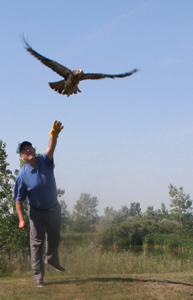 By Stan Ashbee
Sunny South News
At this time of year, the Alberta Birds of Prey Centre in Coaldale is busy releasing birds back into the wild, according to Colin Weir from the centre.
"We get them in from April through to September and we like to get them on their migrational travels before the winter comes," Weir noted.
On Aug. 30, Coaldale Mayor Kim Craig helped release two birds back into the wild at the centre.
"The two birds we let go were called Swainson's hawks and they're a pretty interesting bird. They nest right here in southern Alberta. They usually arrive in May. The babies are leaving their nest in July and August and then by mid-September they have to start their migrational travels and they travel all the way to Argentina," he said, adding every spring the birds return to southern Alberta.
Weir explained the two birds released last week were orphans that fell out of nests.
"They're a hawk that's really beneficial to our local farmers. In fact, most of the birds are brought to us by caring farmers and ranchers in the area. Their favourite food for breakfast, lunch and dinner are gophers. They sometimes follow farm tractors looking for mice. Farmers like having them around," Weir said.
In total, Weir noted, the centre will release between 100-150 birds this year.
"We've been doing this 25 or 30 years and sometimes it's nice if we let the birds go first of all in the communities they came from. These birds came from the communities and sometimes it's nice to involve some of our local politicians just to remind them of the volunteer services we provide to the communities on a year-round basis. We've also got a great working relationship with the Town of Coaldale. It's kind of a way for us to show off what we do and say thank you at the same time," said Weir.
Weir said the last day the centre is open is Sept. 10 and the centre is open daily from 9:30 a.m. to 5 p.m. until the closing date.