Schneider talks ag — Carbon tax, growing up on the farm, harvest and crop yields
Posted on September 13, 2016 by Sunny South News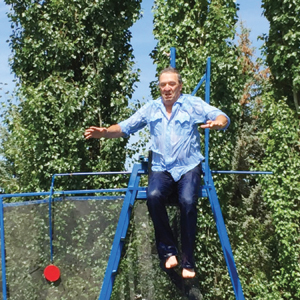 By Stan Ashbee
Sunny South News
Southern Alberta's agricultural sector is vital to the local economy and to the communities it serves.
"When agriculture is doing good, which it has been for several years, the communities in this riding do very well," said Little Bow Wildrose MLA David Schneider.
When local agriculture service, feedlots and producers are doing good, Schneider added, the region doesn't feel the downturns like the rest of the province does further north.
"Agriculture is important, there's no question about it. For that reason alone, it keeps us going," he said.
Schneider noted he talked recently with the Alberta ag critic about what is going on with Alberta's AgCoalition, as it gets organized for Bill 6 consultations.
Schneider noted the ag critic had a discussion with the Occupational Health and Safety chair recently and the chair said it's been pretty quiet on that front.
"It's amazing how we had to rush Bill 6 through before the end of session last fall and now we can't seem to get the coalition moving and going to determine what's going to happen. Apparently, there's not a lot going on there," said Schneider.
According to Schneider, the Wildrose Party is disappointed with the number of actual producers picked to be a part of the roundtable discussions.
"We do understand people with regards to safety and they have knowledge agriculture people don't," he said.
But, he added, the percentage of those in the agriculture industry involved in the consultation process is less and lower than what would be expected. The expectation, Schneider said, would be for those involved to at least have some groundwork in the fields and/or have made a living at farming for many years.
Schneider was asked about his thoughts on employment in the ag sector and if youth should be encouraged to pursue careers in the industry.
"Businesses in agriculture are not getting smaller, Schneider explained.
"They're getting bigger. There's always a need for labourers and they have to be safe when they get to their workplace and be able to arrive home safe. For the most part, people in agriculture understand that completely. Small farms, where kids grew up on the farm and took a position on the farm and took over the farm, they're still out there but agriculture is just becoming bigger," he said.
The need for people interested in farming as an occupation, hasn't gone away, he said. And, Schneider added, the amount of acres being farmed isn't going away and this trend will continue the way it has for years.
Another topic, that sticks in Schneider's craw, is the proposed carbon tax in regards to the Alberta agricultural scene.
"Once again, that was another one, that was pushed through before the end of session this spring. Agriculture fuel is exempt, which is a huge expense on the farm," he said, but there are unintended consequences agriculture will have to deal with.
Schneider said Albertans already are aware the price of electricity is going up but nobody knows how much. He added whatever percentage the price of electricity is going up, the bottom line is, the producer and/or consumer will have to pick up the bill.
"Imagine if you pump water on a crop, that's a huge cost to a guy who does irrigate. Any percentage that goes up and is not exempt is going to be cutting right into the bottom line. If you grow grain to be hauled to elevator for export, you're exempt if you haul it yourself. If you traditionally hire that hauling done, that's going to go up because of the person that hauls the grain isn't exempt from the carbon tax, so the price of fuel will go up and that will be passed on down. Once you get it to the elevator, those things operate on three-phase power, whatever percentage the power bill goes up, that all has to be passed down to the producer, which is another consequence that wasn't discussed. They weren't interested in hearing this stuff at all," he said.
Another example Schneider provided was a locomotive that sits waiting to haul to the coast on behalf of the grain company are not exempt on fuel, so that cost will also again have to be absorbed by the producer and onto the consumer.
There's a long list of things wrong with the carbon tax proposal in regards to the ag industry. Schneider said it's great agriculture is exempt on the fuel tax but agriculture is not exempt from a lot of other things that are going to touch them.
"It's going to affect agriculture, as well," he said.
The regulations, Schneider added, haven't been written yet or at least the regulations have not been made public.
"They may have been written, so we don't know exactly what may be exempt but at this point in time, only fuel in agriculture anyway," Schneider said.
Many farms in the Little Bow riding have already started harvesting crops, while other crops are just a few weeks away from being harvested including corn, sugar beets and potatoes, which Schneider said is weeks early compared to the traditional time period.
Taking notes from his own farm, in which Schneider now rents out, the tenant farms 8,000 acres and as of last week his tenant has only about 2,000 acres left to harvest.
Yields this year, Schneider noted, are fine other than peas.
"I haven't heard of any canola yields. Peas suffered because while they were flowering it was hot and basically no rain. Peas — 30 bushels are a pretty prominent number, I hear," he said.
Wheat yields, Schneider has heard, have been 50-plus bushels.
"The wheat took the stress a little better," he added.
*(Picture is of David at a summer event in Coalhurst)