Coaldale SRO back in schools
Posted on September 20, 2016 by Sunny South News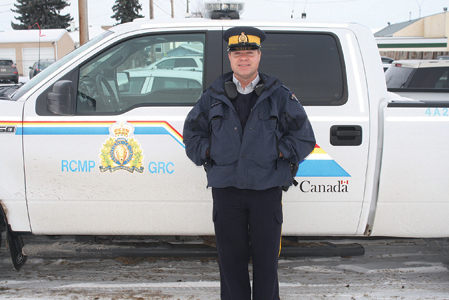 By Stan Ashbee
Sunny South News
Coaldale RCMP School Resource Officer (SRO) Cst. Doug Sokoloski has been back in action at Coaldale schools since Sept. 6.
"Primarily, the first week is just trying to target the school zones and traffic. The kids are back, so pedestrians and bicycle safety. People aren't conditioned to have school zones, so monitoring the elementary school zones and over at the high school," he said, adding now that students are settled into routines, he will begin delivering some of the programs including Internet safety for all grades.
"Posting pictures on Instagram, Snapchat and Facebook. Something that seems to be an ongoing issue and more so, as more kids get cellphones," he added.
Most of the schools in Coaldale have something built into their curriculum for Internet safety, he noted.
"But, more specifically, I would go in and speak to classes individually about some of the things we see popping up from a policing point of view. Hoping they can be aware of some of the implications posting things online can lead to. We try to draw examples of calls and cases we have, nothing specific, but these are the things that could potentially happen. I know I delivered four or five to the entire school but last year — first we did St. Joseph's School and R.I. Baker Middle School and Kate Andrews High School. What I think we're going to try to do this year, rather than do it en masse, is more specifically to individual classes, so we can touch base with the kids and it opens it up to question and answer. A lot of times they'll have specific incidences they may have been exposed to and we can talk about it as a class," he said.
Sokoloski said KAHS has an actual forensic class this year too and he noted perhaps he could invite a special guest speaker to come in and talk about impaired driving, evidence collection, crime scene photography, or footprint and fingerprint analysis.
Of course, Sokoloski said, the department has a full-time dog handler, so he'll most likely be bringing in the handler and the canine companion, as special guests in the winter months.
"Where we can get all the schools to have a visit and the dog will come in and give a demonstration and talk about training and what the dog can do and I get to put the arm guard on and the dog can deliver a little bit of a bite," he joked.
Last year, marked the RCMP's first foray into offering the SRO service to local Coaldale schools. Prior to last year, the Lethbridge Regional Police Service (LRPS) offered the service.
"The schools are very open and receptive — teachers, students and administrative staff — really good and no opposition anywhere. The students are the main thing. Having been a citizen of Coaldale they'll see me at a department store or driving down the street or whatever or cutting my grass in my yard, it's amazing how they acknowledge that. It's really good to see. The reaction from the kids is excellent. This year, I came back and they're high-fiving me as they walk through (the schools). They like the interaction. I say it was really good and very receptive," he said, in regards to last year's success in the Coaldale schools.
Last year, he added, was trial and error to get a pulse of what the community is like and what the schools are looking for.
"I left it open to the teachers, they all have my e-mail address and if there is something specific they want to address in their class or if something pops up or any issues that may arise, I make myself available to come in and speak to a class or individuals. Or if they're looking for information, we can certainly adjust that and do the research and come back and speak to them. It's ongoing. Nothing is really set in stone, we don't have an actual lesson plan for this position. It's being available and free and keeping the communication line open," he said.
From a driving complaint to an issue on a school bus or to a conflict between two students — the SRO is available to chat with local schools.
Bullying in local schools is surprisingly low, he added.
"The schools do an excellent job at nipping that in the bud. It's amazing, it's nowhere near what I would expect it to be with this many students. The teachers are really in-tune with the students and the administrative staff, principals and vice-principals, are pretty firm and they don't allow any of the stuff to get out of hand. It's remarkably low," he explained.