Picture Butte Emergency Services at the ready
Posted on October 11, 2016 by Sunny South News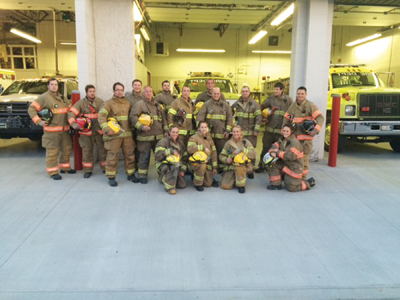 By Stan Ashbee
Sunny South News
Amy West, EMS team lead and deputy fire chief of Picture Butte and District Emergency Services said the department is currently sitting at 21 members. She added a full roster would be 24.
"We're always accepting applications," she noted.
According to West, the department's fire responses have come down a bit this year, in comparison to previous years.
"Our medical calls are remaining steady and on the rise, as always, but our fire calls seem to have been down quite a bit this year. It's been a wet season, so not a lot of grass fires you usually see this time of year. We've had a few structure fires, here and there, but nothing major. Our MVCs have been down, so that is good," West said.
Typically and historically, West noted, the grass fire season used to be from May to August.
"The last couple of years, it has been pushed later — seeing more heavier grass fires August to November. But, we've had a pretty wet spring and summer and it could very well, depending on Mother Nature, it could very well be an October and November wildfire season for us this year. It's really hard to predict right now," said West.
This past year, West explained, the department did a capital replacement of six of its self-contained breathing apparatus.
"They're on order right now and that was a joint purchase between the town and Lethbridge County," she said.
As for any advice for this year's Fire Prevention Week, West said, a lot of residents don't actually know their smoke alarms do expire and most of them have a 10-year shelf life on them.
"It's just a matter of being aware of that and it's good to check the expiry date on smoke alarms when you install them and then again when you change the batteries," West said.
West added residents need to remember they need to change their batteries every year, as well.
"I like to personally push for twice a year. So, when you change back your clocks, change your alarms as well," she said.
Don't miss the department's annual Open House this Thursday from 5-8 p.m. "There will be burgers and hot dogs," she noted.