Sink your teeth into Schnarr's 'Living Dead' — It's about relationships, only zombified
Posted on October 25, 2016 by Sunny South News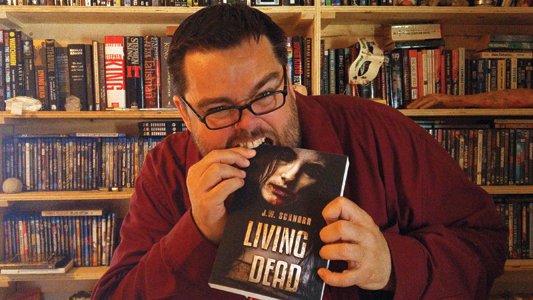 By Stan Ashbee
Sunny South News
Halloween is like Christmas for horror fans and J.W. Schnarr's latest horror novel is like a zobified present just in time for All Hallow's Eve.
The book, "Living Dead," which was released this past summer is a zombie novel but it is much more than that — it's about relationships. The opus is also set in Calgary.
"I'm keeping it local," Schnarr noted. Schnarr is a city reporter for the Lethbridge Herald and covers Coaldale town council for the Sunny South News.
According to the southern Alberta horror scribe, the story is about four friends trapped in a house and the grind of the endless horror of what the four friends are going through both physically and mentally. "It really starts to wear on them," he added.
"Some of them are trying to find ways to escape for a little while, whether that's huffing paint or getting into solvents. For one of the characters, he has a complete mental breakdown and it forces the other characters to hold them together. The goal is to survive until winter, when they feel the zombies will all freeze and they can actually just walk out of the city if they want," he explained.
So far, the response for the book has been good.
"I've heard from some people in Calgary, who really enjoyed having a localized setting. The reviews I've got have said people enjoy the characters and some have said it is a book about relationships and how people deal with stress with each other," he noted.
One of the book's main characters adapts to each new terrible thing that happens, Schnarr noted.
"It's how people get stuck in these relationships where they're so focused on what they're doing, it normalizes everything for them. That's something we've seen over and over again in other relationships. You look at those people and you think, man how could you live through that? Or how could you still be there with all this crazy stuff going on in your life? For those people actually in it, sometimes they don't see just how messed up everything is. They are just very focused on what the next thing is they need to do to survive and that's definitely the case for my main character," he said.
Currently, the book is available in a paperback version and in an eBook format online at Amazon. The book is published by Severed Press.
"Their specialty in horror is B-movie horror. They focus a lot on apocalyptic tales. They do giant monsters and zombies mostly. It was a good fit. I sent it off and I think it was within two weeks or something, they had sent an offer. They were really happy with the book. I've been really happy with what they did with it. I think it looks great. I'm super happy with the cover. The overall quality of the book is quite good too," he said.
Schnarr's latest release is his second novel, but his first foray with a publisher.
"It's my first novel with a publisher. I have two short stories collections published by Five Rivers Publishing based out of Ontario. Years ago, I used to run a small publishing company and when I was running that company I put out three anthologies," he said.
If readers are looking for a fast read they can really bite their teeth into this Halloween with a local setting, "Living Dead" is a great choice for October.
"It's a great time for scary stories," Schnarr said.