Coaldale is ARPA's Overall Healthy Community Champ
Posted on November 1, 2016 by Sunny South News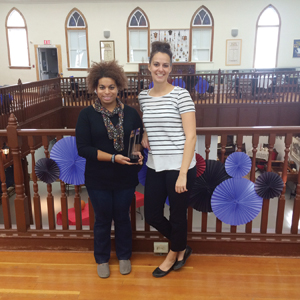 By Stan Ashbee
Sunny South News
ARPA or the Alberta Recreation and Parks Association, awarded the Town of Coaldale its Overall Healthy Community Champion honour, as it also honoured volunteers, practitioners and elected officials from across the province at the 2016 President's Awards Banquet in Jasper recently.
According to a recent media release, ARPA's awards recognize and promote the creativity, dedication and perseverance of individuals and groups committed to using parks and recreation to raise the quality of life of Albertans.
Stephanie Wierl, the town's Community Services Manager said, the town won the award through the Communities Choose Well program.
"They're looking for a community that makes an impact, in terms of healthy eating, active living and offerings they offer out to the community to enhance those opportunities for residents. They award one of these in the province each year and we were lucky enough to receive the award for 2016," she noted, adding the award win was out of over 190 communities.
"It is a large honour for us to win this award. It's a pleasure to be able to provide these opportunities for Coaldale," she added.
Last year, Wierl said, the town won the award for Creating Community Capacity through the same program. "It was nice to move ahead in the ranking of the awards a little bit and get some hats tipped off to the work we do," Wierl said.
Alysha Smith, the town's arts and culture co-ordinator, said it's great the town was able to win the award.
"We've certainly tried quite hard to get the healthy eating and the healthy living into the community. For my part, working with the youth, trying to get more youth-based healthy eating and healthy living through different events — special swim parties, we did a youth skate just recently. We're really lucky to be able to do that in the community," Smith said.
Wierl said it is nice for the town to be able to offer opportunities for residents to stay in Coaldale.
"To not always have to drive into Lethbridge. We are so close and we do compete on programming and things like that. But the more we can offer programs, events and opportunities for our youth to stay active and involved within the community — more of a community we create here. We are creating a place for people to live, work and play and we're creating that place for people to be active and healthy and impact their community," said Wierl.
Smith added the town is growing and what the town has to offer is growing too. "We're growing what we're doing, our programming, our offerings and I think it's really great to be able to have that in our community and on your own front door step," Smith said.