Frank West is new deputy fire chief — Picture Butte Emergency Services hires new EMS staff and says farewell to Amy West
Posted on November 1, 2016 by Sunny South News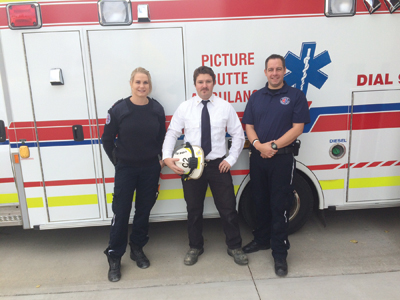 By Stan Ashbee
Sunny South News
It's a bittersweet farewell for Amy West, as she leaves Picture Butte for Jasper later this month. Amy was Picture Butte and District Emergency Services' deputy fire chief and EMS team lead until yesterday, as her brother Frank officially took over the reins of deputy chief duties today and Lelaina Bredeweg and Kieran Biggins have taken on the duties of EMS team leads at the department.
"I'm going to be taking on the role of assistant fire chief in Jasper with the Jasper Fire Department. Primarily my role there is the main duties of a chief officer, so instant command and what not and in addition to that, I'll be the chief of training. Kind of overseeing and co-ordinating their training program for firefighters," she said, adding the Jasper department has 38 members. Amy noted she begins her new position Nov. 7.
West said she was with the Picture Butte department for just under 12 years.
"It comes with mixed emotions leaving. I'm definitely excited about the new opportunity and furthering my career in the fire service but it's definitely a hard thing to do — to leave home and leave the department that helped me build my career. It's going to be a lot of changes but I'm looking forward to the new challenges and adventures it will bring," she said.
Frank, Amy said — is young, fresh and he has wonderful ideas and he has great experience for a person his age.
"I think it's a new kind of energy Picture Butte will strive on. I think he'll do great. It makes me very proud, as he is my younger brother," she said.
Because Amy had two roles at the emergency services department — deputy chief and EMS team lead — moving forward those will be two separate positions, as the EMS lead is a full-time position.
"They've hired two new staff," as another department member recently left to attend school.
"They had recently hired Kieran, an EMT and also Lelaina, to fill my vacancy. However, I guess, what they're doing now, rather than having the one supervisor in charge of everything, they're kind of sharing the roles between the two of those EMS staff," she explained.
Amy said she appreciates everything the Picture Butte Fire Department has done for her.
"And, I just want to send a shout out to the wonderful volunteers that we have in Picture Butte. It's definitely going to be hard leaving them behind," she added.
With Amy moving onto her new position, which Frank and the rest of the department are very proud of, Frank said it is a good career transition for his big sister.
"There was a vacancy for the deputy fire chief and I was the acting captain at the time. Dave Feist, our fire chief, he promoted me up into the deputy chief role," Frank said.
Frank said he is more than happy to fill the spot. "I think we've had some good leadership in the past few years with Amy and Dave. They've got, pretty much, everything in place that I need to do. It should be an easy transition for me to step in and fill that role," he added.
As far as emergency response goes, the new position is not much different, as he was the acting captain prior to the transition.
"My role in emergency response isn't going to change much but I will be taking a much more administrative role. Dave and I will be handling all the investigations, fire inspections and fire prevention work within the town and our area within Lethbridge County," he said.
Frank added he's excited to get started and to learn the ins and outs of the administrative side of the department.
"It's something, we as the front-line responders, don't see all the time but is very important," he noted. Frank has been with the department for over eight years.
With Amy leaving, Frank said, the department will have a whole new team.
"Both of our full-time people for EMS have moved onto other careers, so we've got both Lelaina and Kieran are both our full-time staff. Both, right now, filling the position of daytime EMS response and the EMS administrative. They're sharing the duties right now. Then we'll be evaluating going forward into the future who is going to take the team lead position and be the supervisor," Frank explained.
"We definitely have some big shoes to fill," Lelaina said, adding she has been with the department casually between four and five years and a volunteer firefighter for over three years.
"This is nothing new to me but a lot of responsibility with this job," she added.
Kieran said he has only been with the department for a month.
"Prior to that I spent five years with Alberta Health Services (AHS) Edmonton Metro EMS. This is a big change for me going from the pace of Edmonton to a little more low key," he noted, adding he's really enjoying life in small town Alberta.
"It's really nice to have time to get to know the community and meet all the new co-workers and a lot more people from the fire department. It's really a refreshing change," he added.