Santa Claus is coming to town
Posted on November 15, 2016 by Sunny South News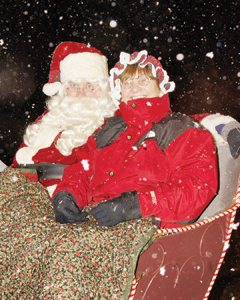 SONY DSC
By Stan Ashbee
Sunny South News
You better watch out and you better not cry — Santa Claus is coming to Coaldale.
On Nov. 25, jolly old St. Nick takes a few nights off from his bustling toy shop at the North Pole to visit with children of all ages at Coaldale's Country Christmas Night of Lights, presented by the Coaldale and District Chamber of Commerce. He will also be visiting Picture Butte on Dec. 2 during the town's Midnight Madness festivities.
Santa spoke with the Sunny South News for an exclusive interview, as things are gearing up for a busy holiday season for Kris Kringle.
Sunny South News: What's it like up at the North Pole a month away from the big day?
Santa Claus: It's beginning to look a lot like Christmas, that's for sure. Ho ho ho. The elves have been handling all the toys and I've been checking my list and even checking it twice. There's sure a lot of good boys and girls in Coaldale and Picture Butte.
SSN: When you visit communities prior to Christmas Eve how do you travel?
SC: I fly incognito via Air Canada or WestJet usually and take the red eye flight. Ho ho ho. I take my sleigh and it allows the reindeer to get some practice in before heading out on Christmas Eve. Rudolph is in tip-top shape this season and is ready to guide the sleigh.
SSN: How do you like Canada and the Lethbridge County area?
SC: Oh Canada. I love coming to Canada. From coast-to-coast east and west and from north and south, Canada truly is a breathtakingly beautiful place. A guilty pleasure of mine is stopping by Beaver Tails in Banff and in Niagara Falls and grabbing a poutine in Montreal. I enjoy visiting the communities in Lethbridge County too. I've always wanted to visit the Alberta Birds of Prey Centre in Coaldale and Coyote Flats Pioneer Village near Picture Butte.
SSN: When will you be in Coaldale for the Night of Lights?
SC: Mrs. Claus and I will be handing out candy bags immediately following the parade, which starts at 7 p.m. We will be just outside the Sunny South News office, located at the intersection of 18 Street and 20 Avenue. But you already know that. Ho ho ho.
This year's Night of Lights parade will go along 20 Avenue from 11 Street to 19 Street. Coaldale and District Emergency Services will be holding their annual Barbecue Fundraiser beside BMO from 5:30-8:30 p.m. Free apple cider will be served at the Post Office from 6-8:30 p.m. There will be a Canada 150 Unveiling Ceremony at 5 p.m. across from the 7-11 at the intersection of 20 Avenue and 20 Street. The Coaldale Communities In Bloom event will offer birthday cake and entertainment. Dance performances will be held at 5:45 p.m. and at 6:30 p.m. at Dance Images and they will have the annual Bucket Cookie Sale.
Of course the town will have fire pits set up along 20 Avenue from 6-9 p.m. Hay rides will be held from 6-9 p.m. and pick up will be in front of The Bargain Shop. There will also be free hot chocolate served from 6-8:30 p.m. at various locations downtown. Free popcorn will also be served at various locations. A market will be held at the Community Centre from 3:30-8:30 p.m. with free admission. A turkey dinner will be held from 4-7 p.m. at the Coaldale Curling Club.
Santa Claus added he would like to thank his helpers in Coaldale — Alex Hann and Eleanor Doram too.
Showcase your business by entering a float or vehicle in the parade with dazzling lights and glittering décor. Why not add some Christmas music for an extra-festive touch. The possibilities are endless. Let folks know who you are. Register now to secure your spot in this increasingly popular parade.