Coaldale Communities In Bloom set to unveil Canada 150 project Friday night
Posted on November 22, 2016 by Sunny South News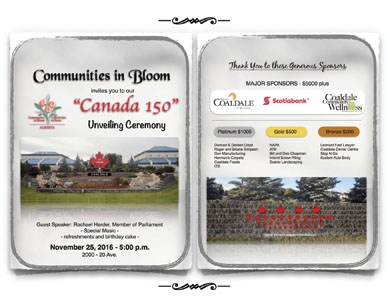 By Stan Ashbee
Sunny South News
In conjunction with the Coaldale and District Chamber of Commerce Country Night of Lights this Friday night, Coaldale's Communities In Bloom is having an official unveil of the Canada 150 project at 5 p.m. The project includes a giant maple leaf and the back of the display will have maple leaf brick sponsorships.
"We will have Lethbridge MP Rachael Harder, as a guest speaker and special music, refreshments, a huge birthday cake and Christmas carols," said Doreen Lloyd from the Coaldale Communities In Bloom Committee.
She added the committee has been busy with prep work on the project for the past six months. The unveiling will take place at 2000 20 Avenue, where the Coaldale "Welcome" sign area is, just off Highway 3 and across from the 7-11.
Lloyd added the committee is very grateful to ITB from Coaldale for building the 10 x 10 feet metal maple leaf with "Canada 150" etched on it.
"That was going to be installed and we will be covering it up and unveiling it," she said.
After the unveiling, the project will be a permanent installation in town.
According to Lloyd, the committee also has a sponsorship program, where the back of the bricks will have maple leafs with different sponsors.
"The sponsorship levels are Major at $5,000, Platinum at $1,000, Gold at $500 and Bronze at $200. We really tried to involve the community in this, so they can take some ownership in it, as well," Lloyd noted.
Community members, Lloyd said, have been very supportive with the project in celebration of Canada's 150th anniversary.
"These maple leafs on the bricks will be permanent. They will be there forever with their name on there," she said.
Coaldale, the town, gave the committee funds to help kickstart the campaign.
Lloyd said the committee also bought Christmas lights and have hired someone to install the lights down the main street in Coaldale for a rental fee.
"We buy the lights, he puts them up and takes them down and we store them. It's a very reasonable thing and a good way to get a lot of lights up. We've had good co-operation with the town from that so far. We've got the lights out on the maple leaf site. We decorated the tree, he did that for us, as well. That's part of the Communities In Bloom," she said.
According to Lloyd, the committee did enter the annual provincial competition this year.
"We did really well. We got the top five blooms and 83 per cent but it didn't get us first place. Next year, we're going to get first place — that's our goal," she added.