Picture Butte food bank update
Posted on November 29, 2016 by Sunny South News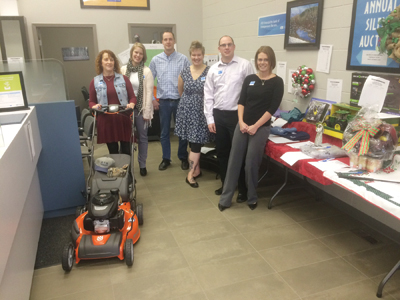 By Stan Ashbee
Sunny South News
According to the manager of the North County Interfaith Food Bank in Picture Butte, there are a few more recipients of the services provided by the food bank.
"The community has been very well in supporting us yet, so we haven't been fearful of not being able to give food out. That part is really nice," said Manager Nancy Nieboer.
Nieboer added the food bank's Christmas hampers will be put together and delivered on Dec. 17.
"That is when we all gather at the hall at the St. Catherine's Church and we compile and deliver all the hampers on that day," she noted.
Between 50-60 hampers will be made up for those in need, Nieboer said.
Again this year, ATB Financial in Picture Butte has put on a silent auction. The items have been on display at ATB Financial and the auction will end the night of Dec. 2, which is this Friday and is also the town's Midnight Madness celebrations.
Nieboer said the first silent auction was held in 2001.
"It was $2,000 they made for us. In 2015, it was over $9,000 they fundraised for us," she said.
"We're very grateful to ATB Financial for the work they do in setting up this fundraiser and the community supports it. It does us well," she added.
Nieboer explained the rural food bank in Picture Butte is a bit better off than other food banks in the province because of the agricultural industry, rather than an oil and gas-related industry.
"Yet, we do see a spinoff a little bit from the people being laid off. Even the price of everything, I think more people are finding they're having a hard time making ends meet, so they come to the food bank so they can pay their rent," she said.
She said the food bank isn't getting a lot more clients because the food bank provides services for rural residents, as opposed to an urban area.
According to Nieboer, the food bank helps out, on average, about 35 households per month.
"We are very thankful to the community that supports us," she said.