STARS/HALO Rescue charity auction
Posted on January 10, 2017 by Sunny South News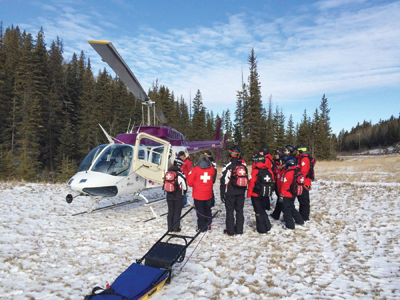 By Stan Ashbee
Sunny South News
STARS Air Ambulance and HALO Rescue are two southern Alberta lifesavers that need funds to help southern Alberta families if critically injured or ill.
This Saturday, the 4th Annual STARS Air Ambulance and HALO Rescue Charity Auction will be held. The organizations are looking for donations for the event's silent and live auctions.
STARS Air Ambulance provides specialized emergency medical care and transportation for critically ill and injured patients.
Physicians, nurses, paramedics and pilots work with a team of dedicated support staff and community partners to save lives.
STARS has bases in Calgary, Edmonton, Grande Prairie, Regina, Saskatoon and Winnipeg and has flown more than 33,000 missions across Western Canada since 1985.
Whether it's a motor vehicle collision on a rural road or a medical emergency in a remote area, support ensures STARS can be there for the next patient who needs them. HALO Rescue has been in operation since 2007 and is the only dedicated medical rescue helicopter stationed in southern Alberta, which can respond within a reasonable time frame to emergency situations. The availability of a rescue helicopter decreases the response time to a trauma victim, brings EMS personnel directly to the scene and transports the patient from remote or inaccessible areas.
According to a recent media release, HALO Rescue operates in support of the existing ground ambulance services and is dispatched through the STARS Emergency Link Centre.
HALO Rescue's annual operating budget is approximately $1 million and the on-going operation of the service is dependent on financial support from the corporate and private sector, as well as the caring public.
All live items will be auctioned off at the Readymade Hall at 7 p.m. this Saturday night, according to farmauction.com, where pre-bidding has begun. Cocktails at 3 p.m. Dinner at 5 p.m. A HALO helicopter will also be on location at Readymade Hall from 3-4:30 p.m. According to a media release, 100 per cent of proceeds will benefit STARS Air Ambulance and HALO Rescue.
According to a recent media release, both STARS and HALO receive limited government funding, and rely on community support for their continued operations. In 2016, HALO received 6.02 per cent of their annual funding from the government and STARS was 24 per cent funded by the Alberta government and was 76 per cent funded through donations.