Coaldale Cares Blood Drive a success
Posted on January 17, 2017 by Sunny South News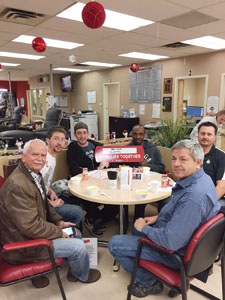 By Stan Ashbee
Sunny South News
Kudos to the Coaldale Cares Blood Drive in December. According to the Lethbridge clinic, there were 73 regular donors and 29 new donors for a total of 102 blood donations, with a goal of 100 donations.
"With your help we collected 1,286 of 1,256 blood donations in Lethbridge in December. Patients and their families greatly appreciate your support," said Belinda Tomiyama, donor relations Alberta and Saskatchewan.
With the support of the Town of Coaldale, she added, the clinic was able to collect all the blood needed in the month of December.
"This was actually the first year we had the Town of Coaldale on board, the town office itself. It was co-sponsored by ITB and it's actually the first year we had the Coaldale Kinsmen, as part of the campaign. It was very successful and we had great support from them," Tomiyama said.
Every month at the Lethbridge clinic, she said, they need over 200 new donors to book appointments, as well as the clinic's regular donors booking appointments to keep up with patient demand.
"There's always a need for new donors to come forward."
According to Tomiyama, the clinic has also had a change in eligibility requirements for female donors.
"It used to be everyone could donate every 56 days. Males are now allowed to donate every 56 days and females every 84 days. That's for the health of the donors," she noted.
On average at the Lethbridge clinic, Tomiyama added, it has 1,500 appointments every month needed to be filled.
"We run numerous campaigns within Lethbridge and outside in Lethbridge County to get people to come in and donate. There's a constant need for blood because the blood we collect today will be transfused into a patient within five to seven days," she said.
In January, the clinic has a Lethbridge Hurricanes campaign.
Tomiyama said it is really easy to set up an appointment for those wanting to donate blood.
"You can just go online at blood.ca and there's an account. We also have an app called Give Blood and you can download that app for your iPhone and Android," she said.
"Even new donors can download that and start a profile and start donating blood."
According to Tomiyama, it's really an important thing Canadians start stepping forward to donate blood.
"Across the country, about only four per cent of our population donates blood. We're relying on this four per cent to supply the blood for everyone. We need more people to start stepping forward. You never know when it's going to be you that needs to receive blood — 52 per cent of us or someone we love needs blood," she added.