Coaldale candidacy for mayor: Van Rijn announces aspirations to run
Posted on April 25, 2017 by Sunny South News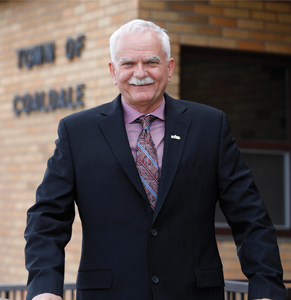 Jack Van Rijn, Mayor of Coaldale.
By Stan Ashbee
Sunny South News
With municipal elections being held Oct. 16 in Alberta and Nomination Day scheduled for Sept. 18, many mayors, reeves and councillors are deciding whether or not they're gearing up to put their name on the ballot for another round and so are residents wanting a change or interested in representing their area.
Deputy Mayor Jack Van Rijn is excited to announce his candidacy for mayor of the Town of Coaldale.
Supported by many residents, Van Rijn said he has decided to run to bring a renewed accountability and respect for taxpayers to the mayor's office. During the 2013 election, Van Rijn noted he was asked by residents and business owners to run for mayor.
"But, I felt it necessary to do my due diligence by learning the process of municipal governance by running for council first," he explained.
"Now that I have nearly four years under my belt as a Town of Coaldale councillor, I felt it to be a natural step, as part of democracy to run for the position of mayor," he added.
Van Rijn currently sits on a number of local committees and groups including the Coaldale and District Chamber of Commerce, Joint Emergency Committee and is chair of the Municipal Planning Commission. Van Rijn received the Citizen of the Year in 2001 and his business was awarded Business of the Year in 1995. He was also chair for the "Save the E.R." campaign for the Coaldale Hospital Emergency Department and initiated the Country Night of Lights in 2000 and was chair for the Coaldale Settler Days Candy Parade.
Van Rijn retired as a 33-year member of Coaldale and District Emergency Services with 21 years as deputy fire chief and was awarded the Fire Services Exemplary Service Medal and Alberta Emergency Services Medal.
Van Rijn has also volunteered for many groups and organizations including the Kinsmen Club of Coaldale and in 2016 was elected by the Kinsmen Club of Canada as a "Life Member," which is the highest award of achievement. He is also chair of the Carnage in Coaldale Demolition Derby and Mud Bog.
Van Rijn said he chose to run for mayor to propose innovative ideas to Coaldale residents.
"Our town has amazing potential and I feel a sense of responsibility to serve and I would be honoured to do all I can," he said.
Born in Taber, the Van Rijn family farmed in the Readymade area until 1966 when the family moved to Coadlale.
"Coaldale has been my home for most of my life and I have been heavily involved as a volunteer through various organizations for over 31 years. I am Coaldale's Number One Fan and want to be part of its future growth by working for the community through town council" he said.
Van Rijn said he wants to pave the way for the future of Coaldale by actively supporting local business looking to expand and grow, aggressively seeking new economic stimulus for Coaldale and fostering a "Coaldale is open for business" attitude.
But most importantly, Van Rijn said, is he wants to focus on what really matters — the people.
According to Van Rijn, he chose to announce his mayoral intentions early to give citizens of Coaldale time to connect with him to discuss concerns regarding the community. Van Rijn can be reached via Van Rijn Electric, by phone at 403-345-5820 or by e-mail at jackvanrijn@shaw.ca.
"I am a firm believer in giving back to the community which I call home. My time has come to make a difference for the citizens of Coaldale," he added.
Sunny South News would like to hear from any potential candidates running for mayor or a seat on council in the Lethbridge County area. Contact ssnews@shawbiz.ca to express municipal election aspirations.