STARS updates Picture Butte council
Posted on May 2, 2017 by Sunny South News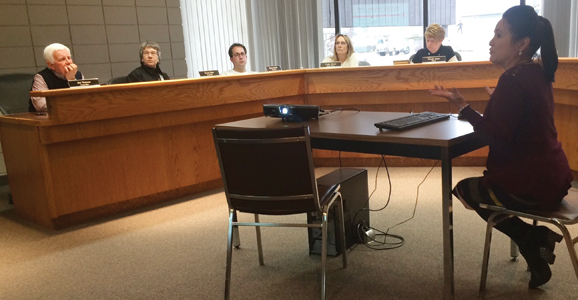 By Stan Ashbee
Sunny South News
STARS, according to its website, offers time, hope and life-saving transport to critically ill and injured patients. Flight times and the decision to transport by STARS helicopters are affected by a variety of factors including weather conditions, availability of resources, location of landing sites, and the condition of the patient. An emergency physician with a background in transport medicine selects the most appropriate option and oversees the care of the patient during transport.
Recently, Glenda Farnden, senior municipal relations liaison for STARS, paid a visit to a Picture Butte council meeting to update council on the charitable organization and to thank the town for its continued support.
One of the changes implemented over this past year, according to Farnden, is STARS working very closely with 9-1-1 dispatch and a referral system.
"This, in no way, changes the process with 9-1-1 or how the calls are initiated. This is to increase and enhance the medical side of things. Because we have access to almost 100 transport physicians within STARS, across the three provinces we now serve, it only makes sense to use those high-level skills, especially on critical care calls. Now, STARS physicians oversee all the medical aspects when they are deemed a critical care call. So, whether the patient should go by ground ambulance or fixed wing or STARS will be STARS physicians overseeing all of the medical care and determinations of what will happen with a critical patient," Farnden explained, adding it includes deciding best mode of transport for the patient and best destination.
STARS, Farnden noted, also has a high level of safety accreditation and is one of only three medical transport systems in all of Canada with the honour.
Inside a STARS helicopter, Farnden said, is an intensive care unit, the unit can accommodate all sizes of patients from adult to small children and neonatal, a handheld device to offer instantaneous blood results in the air and a drill tool used in time sensitive and life threatening cases.
"A severe trauma case where we may need to start an IV immediately and maybe we don't have time to be trying to find a proper vein or maybe the patient is in massive trauma. This allows us to drill through a shoulder bone or leg bone and start an IV access immediately and they say it's no more painful than starting a regular IV. The fact is it is time saving and we can have that intravenous access immediately,, so we can start that pain management," she said, adding helicopters are also equipped with a defibrillator, heart equipment, a portable ultrasound, a plethora of preloaded ready to go medications, a physician's kit and universal blood on board.
"This is definitely saving lives," she said, being able to carry universal blood on board. "We are the first in Canada to bring this life saving measure right to the scene of an accident," she added.
Farnden pointed out the majority of calls STARS responds to is for the general public and more than half is for medical emergencies.
STARS, she added, is fuelled by generosity, but the last year has been quite trying to raise funds, due to a significant decline in donations from the oil and gas industry — but, she added, call volume continues to rise.
"Last year, we saw an increase of nine per cent," she noted, but the organization has put internal cost-cutting measures in order to try to meet its needs.
"This year, was the first year in 24 years, STARS Lottery was threatened not to have a sell out," she said.
"We appealed to every Albertan and of course they answered our call immensely. In the last 24 hours, we sold more than $1 million in tickets," she said, adding the lottery ended at 99.7 per cent of tickets sold, which Farnden said is considered a sell out.
"We are grateful to every single Albertan.