Open Mic Night — just one of many events planned by the Gem Arts and Culture Committee
Posted on May 9, 2017 by Sunny South News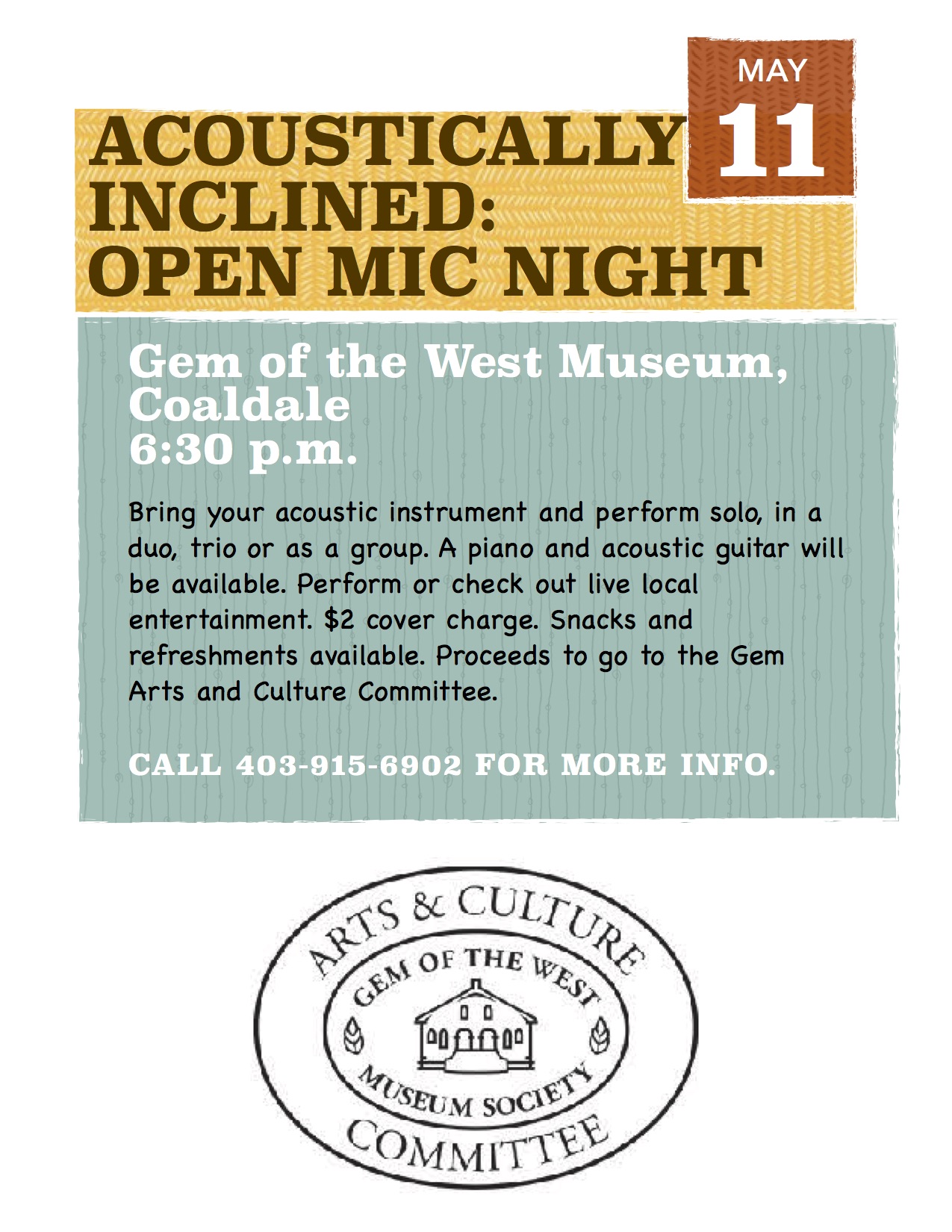 By Stan Ashbee
Sunny South News
Coaldale's Gem of the West Museum Arts and Culture Committee has a busy slate planned for May and this summer.
This Thursday at 6:30 p.m. don't miss the first Acoustically Inclined: Open Mic Night at the Gem.
All ages welcome. Bring your own acoustic instruments or a guitar and piano will be available. Perform solo, in a duo, trio or as a group.
There is a $2 cover charge for performers and guests and refreshments and snacks will be available.
All proceeds go to the Gem Arts and Culture Committee. Perform or check out local live entertainment. For more info call 403-915-6902.
On May 26, it's Toast to 150: A Cultural Celebration from 7-9 p.m. at the Gem. Tickets are $25. Pre-purchase tickets at the Gem or the Blooming Willow by May 17.
Ticket price includes Canadian and European wine tastings paired with appetizers, music and art. Additional drink tickets will be available for purchase at the door.
This will be a semi-formal event and is for those 18 years of age or older.
"So far everything is on schedule and on track. It's looking like it will be a good time," said committee member Tammy Trelenberg, in regards to the Toast to 150 celebration.
Trelenberg noted Art Saturdays will return in June.
"It's a drop-in art event. You just come with your paints and your palette. We were talking about how successful and fun the Knit Wits are at the library, but we wanted to do something more on the artist side of things. It's just a social outing. Bring your canvas and what not and chit chat," she said, adding the last Art Saturday was held this past weekend.
Of course, Trelenberg pointed out, the committee hosts Celebration of the Arts, which runs with the town's Settler Days in July.
In September, she said, the committee will be joining in the Alberta Art Walk, which is province-wide.
"We're going to be putting Coaldale on that map," she said.
At the end of the year, Trelenberg noted, the committee will host its annual art show.