Prairie Tractor and Engine Museum celebrates over three decades
Posted on May 9, 2017 by Sunny South News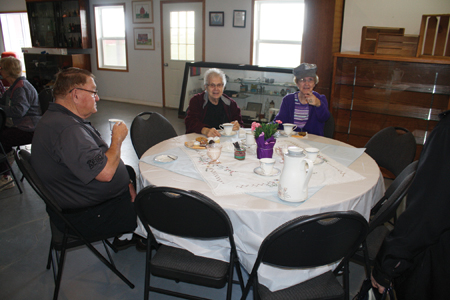 By Stan Ashbee
Sunny South News
It's 35 years of history and beyond for the Prairie Tractor and Engine Museum Society, a not-for-profit organization located at Coyote Flats Pioneer Village, just outside of Picture Butte. The local group celebrated its 35 years last week with an afternoon tea.
Society President Ron Svanes talked about the museum's history and its future.
"It's going to be great. We've got a great history and we'd like to expand on that. A lot of new things are happening this year," he noted.
According to Svanes, restorative work has been done on historic buildings and new work is underway.
"We're going to replicate an old beet shack. We've got a lot of things on the go this year," he added.
Svanes noted the social media platform Facebook has certainly helped the museum gain recognition, both locally and elsewhere.
"We've got a lot of response off of Facebook and that draws in a lot of people. We're working hard to increase our membership this year. We've got a lot of people that like to help, but are not members. Now, we're encouraging people to be a member, so we can involve them more with our newsletters and our social events," he said.
Svanes said last week's tea was a mix of meet and greet, history chit chat and celebrating.
"It's 35 years. I guess that's when our organization started was May 1, 35 years ago. We decided to have a little celebration. A lot of people here were there then. It's fun to have the Old Timers there," he said, during last week's celebratory event.