AHS ambulance agreement renewed in Picture Butte for another four years
Posted on May 30, 2017 by Sunny South News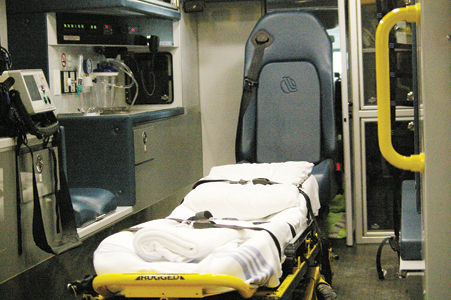 By Stan Ashbee
Sunny South News
CORRECTION: In the Sunny South News May 23, 2017 issue on Page 12 under the headline, "Picture Butte Tax Rate Bylaw explained" it was stated "The residential municipal mill rate will be going up to 7.23049. This is an increase of 44 per cent." It should read, "This is an increase of 0.44 per cent." Sunny South News is sorry for any inconvenience this misprint may have caused.
AHS ambulance agreement renewed in Picture Butte for another four years
Picture Butte council approved the motion to renew the town's Alberta Health Services (AHS) ambulance agreement for another four years until 2021. The motion was passed at a regular council meeting held May 23.
"Administratively, we have no concerns with this renewal term and we're happy with the AHS contract," noted town Chief Administrative Officer (CAO) Keith Davis, prior to council approving the motion to renew the agreement.
Coun. Henry de Kok, also a member of Picture Butte and District Emergency Services, asked Davis how easy it would be to change the agreement or cancel out of it if necessary.
"Hypothetically speaking, in a year from now two or three or four ambulance volunteers quit — or we can't keep the staff anymore?"
"We would have to give certain notice if we couldn't supply that service anymore, but I don't think there's any penalty," Davis explained.
All of those rumours and concerns can be dispelled, Davis added. According to council, many rumours have been floating around about the town losing its ambulance service.
"Rumours were if we didn't have an agreement with AHS, they would take this ambulance out of our town. But, this agreement ensures we will be able to keep and have most of the control over our ambulance, but if we don't have an agreement with AHS we will lose it," Mayor Wendy Jones explained.
Once the ambulance agreement renewal is in place, Jones added, the ambulance service will remain in Picture Butte.
Coun. Joe Watson wanted to assure residents with the passing of the motion, the town has agreed to sign a renewal agreement with AHS for four years.