Lethbridge Tractor Rally June 23
Posted on June 13, 2017 by Sunny South News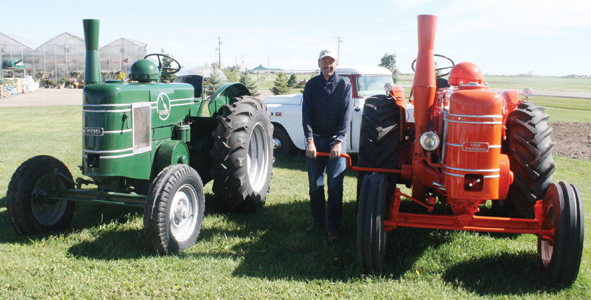 By Stan Ashbee
Sunny South News
Local farmers think their one-cylinder tractors are sexy. Just ask Paul de Jonge from Broxburn Vegetables. He's behind the Lethbridge Tractor Rally June 23, in its fifth year.
"Anybody that has a one-cylinder tractor is encouraged to participate. We get participants from Edmonton and from Olds," the one-cylinder tractor enthusiast noted.
It's an interesting tractor, he said, because there are not that many in Canada.
"Friday evening we leave Broxburn Vegetables around 5:30 p.m. and we want to be in Lethbridge at 6 p.m. and at about 7 p.m. we end up in the City Hall parking lot and then we go home. We like to be back by 9 p.m or before that," he explained.
What's unique about the one-cylinder tractors, de Jonge added, is they are all two-stroke tractors, as opposed to many four-stroke tractors built in North America and they're loud.
"They call them the Harley Davidson of tractors — they rock, they smoke," he joked.
According to de Jonge, the two tractors that sit outside in front of Broxburn Vegetables are from the mid-1950s.
"These are Field-Marshalls. They were used on the prairies. They were the only tractor I know of you can start with a shotgun shell," he said.
He's always had a liking for old tractors and at one time he had quite a few John Deere tractors, he recalled.
"One day, as a kid, I remembered a neighbour in Holland had a Lanz and I could hear this tractor from a mile away. I always wanted a Lanz, so when one of these Field-Marshalls was for sale I phoned the guy and asked if it was a Lanz and he said 'I think so.' So, I went and bought it and got rid of most of my John Deere tractors and switched over to the one-cylinders," he added.
"It's a certain group of people that have a love for the one-cylinders. We get together here in Lethbridge and have a good time," he said, adding between 10-20 tractors may end up in the rally.
On June 24, there will be a sled and there will be fun pulling at Broxburn Vegetables, as well.
"It's not really competitive. See what your tractor can do whether it's big or small. The people will jump on their sled, so it's harder to pull. It's a participating thing," he noted, the action will take place between 11 a.m. and 2:30 p.m.
If you're interested in the old technology and simplicity, de Jonge explained, in those days it was first and foremost.
"Knowing the farmers spent days and days on these tractors in the field, we drive for fun now — the modern tractors are very comfortable, these old ones are not. You have an appreciation of what the guys did back then," he said.