Medieval madness at Coyote Flats will rock you July 29-30
Posted on July 11, 2017 by Sunny South News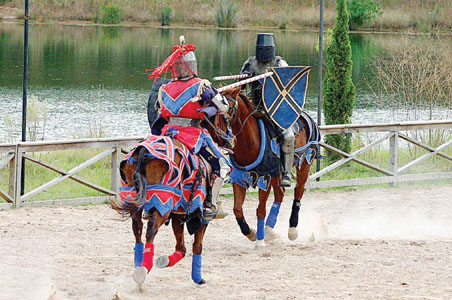 By Stan Ashbee
Sunny South News
Coyote Flats Pioneer Village is about to get medieval on ye July 29-30 at the Prairie Tractor and Engine Museum, located near Picture Butte. The Windy Castle Medieval Guild invites one and all to its first ever Medieval Faire, as it helps celebrate 35 years of the museum.
"Everybody is really excited about this," said organizer Michelle Couper, adding organizing the event has been a rollercoaster ride. But, "So far, it's been good." There is buzz building for the event for sure throughout southern Alberta and abroad.
One of the attractions at the Medieval Faire is the private dinner and joust on the Saturday night. "For $75, that's the early bird price. Prices will go up to $100 closer to the event," she noted. Tickets for the dinner and joust are available online and at Kapow Comics, Cards and Games in Lethbridge.
Couper said the event will feature jousters, a hay bale maze, live action combat, role playing and a live village. The Lethbridge Medieval Club and the Society For Creative Anachronism, a living history group, will also be on location.
Visitors, Couper pointed out, don't have to dress up to attend. But, it is definitely encouraged.
"We're not going to turn anyone away. There's a photo contest for the people that do dress up. They can enter to win tickets for next year," she added.
Volunteers are also needed for the weekend and volunteers can find out more information online. The Medieval Faire runs both days from 9 a.m. to 5 p.m. The dinner and private joust Saturday night will run from 6-10 p.m. Camping will also be available on-site and pre-registration is required. A schedule of events will be announced and available online prior to the event.
Jousters will be an integral part of the weekend's entertainment, thanks to the Millarville Calvary. There will also be armed combat demonstrations from Dragon's Own out of Calgary plus archery and fencing demos, a falconry demo from the Alberta Birds of Prey Centre from Coaldale, street performers including object manipulation professionals, Gambit the Super Dog, and Canadian storyteller Calum Lykan.
"Jousting is more historical based, as opposed to theatrical," she noted. "They're actually whacking each other." And, she added, the faire will feature people that are local, whenever possible.
"We want to showcase the people that are here," she said.
As for the jousting, Couper said basically the jousters do a couple of passes at each other and showcase how to joust.
She added there will also be an opportunity for visitors to get up close and personal with the knights.
Also on tap is a Mead Garden thanks to local Lethbridge craft brewers Theoretical Brewing.
For kids and kids at heart, there will be a petting zoo and pony rides from Thistledown Donkeys, a bouncy castle, a colouring station, face painting by Katt Panic, medieval hair by Kitsmet Hair, a unicorn will be on location, and carriage rides will be available.
"We want to explore the past, while bringing the older cultures together," she said, adding the event is a good way to also bring the community together.
Admission is $15 in advance or $20 at the gate. Visit Windy Castle's website at windycastle.com and Facebook page at facebook.com/WindyCastleMF for more information.
An important reminder was posted online about the Medieval Faire —
"While you don't need to spend hours studying history books, please do your best to embrace a medieval, fantasy, historical theme of dress, costume, decoration, presentation, speech, etc. The vendors, re-enactors, performers and volunteers are what make a medieval faire a walk into a fantasy world, a fun escape from reality — please contribute to that as much as you can."
Another note to remember — "contacting the guild is as easy as pushing a drunk friar off a stone wagon."
E-mail Couper at a_kender28@hotmail.com.