Donkersgoed shares stories with Coaldale-Lethbridge Community Growing Project
Posted on September 6, 2017 by Sunny South News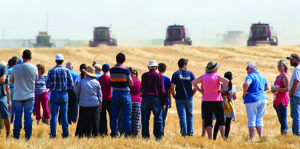 (Sunny South photo submitted by Ian Martens) A crowd watches as a line of combines makes its way along the rows of barley during the annual Canadian Foodgrains Bank harvest day Monday at the Coaldale-Lethbridge Community Growing Project field east of Coaldale.
Ed Donkersgoed saw firsthand the impact Canadian Foodgrain initiatives have
By Dave Mabell
Southern Alberta Newspapers
Canadians were quick to respond to the plight of Syrians forced to flee their war-torn nation. Church groups and others stepped up to sponsor refugee families here, then assisted in bringing their stranded relatives as well.
But southern Albertans are also helping Syrians and others stay alive while they're forced to remain in refugee camps.
On Monday a Coaldale-area volunteer, just back from Lebanon, told a sun-drenched crowd just how much impact they're making through their local Canadian Foodgrains Bank initiatives.
Ed Donkersgoed and his wife Shannon went to Lebanon to see first-hand what benefit the Canadian project is bringing to the millions of refugees in the Middle East. He learned how effective local churches and agencies there have become in reaching those who need it most.
One of many farmers and Hutterite colonies who support the Coaldale-Lethbridge Community Growing Project, Donkersgoed spoke before nearly 20 massive combines took to the field to bring in this year's donated crop.
The harvest, one of the earliest since the Coaldale-Lethbridge project began, will be followed by nearly three dozen more across Alberta — reportedly including Chin, Taber, Vauxhall and Granum.
During their visit, Donkersgoed said, they talked to a refugee who admitted she was giving up on life. But then she learned about assistance available from a Canadian Foodgrains partner in Lebanon — one of about 40 food-scarce nations receiving help from the Winnipeg-based coalition.
"Before that, I was dead," she said figuratively. "Now I can live again," and so can her children.
Even more than badly needed nourishment, Donkersgoed said, the Canadian initiative is bringing refugees renewed hope.
"The refugees told us what this means to them. They have a sense of hope, resiliency and thankfulness."
Most of the donated grains and crops are sold at auction here, with their proceeds matched by the federal government.
But Donkersgoed reported a shipment of Canadian-labelled lentils and chick peas — foods commonly used in the Middle East — reached the refugee camp while they were there.
"People could not comprehend why people in Canada, so far away, could possibly care about them."
One of the only non-farmers on the local board, United Church minister Ed Wallace says while the Coaldale-Lethbridge project began more than a decade ago, the seeds for the grassroots "bank" idea were planted in 1983. Seven years earlier, the Mennonite Central Committee sponsored a pilot project, enabling Canada's grain farmers to help meet world food emergencies.
Today, Wallace reports, more than 15 denominations and church-related organizations work together across Canada as "a Christian response to hunger."
"Our Hutterite colonies have given us so much support," he adds, and so have southern Alberta farm supply businesses and grain companies.
Since its birth, Wallace says, the Coaldale-Lethbridge project has raised more than $1 million — which goes a long way in impoverished countries. And that's before the federal government's matching funds.
He says this year's crop — a quarter-section of barley — has already been sold to a local producer, and so has the hay. But Wallace says southern Albertans who don't have farming roots can show their support by designating a donation to the Canadian Foodgrains Bank through their local participating church.
Through the 2015-16 year, the agency reports, Canadians provided more than $43 million worth of assistance to more than a million people in 40 nations — from Nicaragua and Haiti to Nepal and the Philippines. In addition to providing food, the organization also teaches impoverished people, where possible, how to grow food for their families — with priority to nursing mothers and young children. It also advocates for changes in government policies which could enable families and communities to become self-sufficient.