Coaldale mayor seeks reelection
Posted on September 19, 2017 by Sunny South News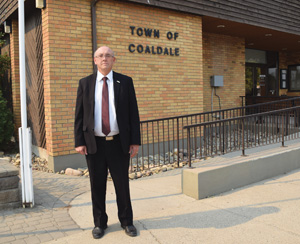 Sunny South Photo by Nikki Jamieson
By Nikki Jamieson
Sunny South News
Coaldale mayor Kim Craig is aiming for a fourth mayoral term in office.
First elected in 2004, Craig had served as a councilor for one term before running for and winning the mayor's seat, a position he has served in for three terms. He is hoping that the 2017 municipal election would see him serving another four-year term.
"I'm a proven leader, they know what they're going to get when they vote for me," said Craig. "I think I've demonstrated my passion for Coaldale, I bring a lot of experience — a broad base of experience.
"I feel that Coaldale is on a winning streak — we have a good momentum built up. We have lots and lots of success, and why would you want to tinker with that winning formula."
Craig cited several on the go projects as one of the reason he was running, as he wished to see them through to their completion.
"Unfortunately, with municipal government, it takes a long, long time to get things done," said Craig. "And we have some really exciting things we are at the verge of completing."
The town has submitted its Notice of Proposed annexation to the province, which if approved, would see approximately 621 hectares of land currently within Lethbridge County and located around the town's boundary be redistributed to the town, to allow for future growth. The province's reply is due around the end of the year or early 2018. Town council had started discussing annexation about nine years ago, although Craig said back then the relationship between the county and the town wasn't as "amicable", and so nothing came of it.
However, town council worked hard to improve its relationship with the county, and this time, however, it looks like it could go through, and Craig wants to be on the team and work with the community to decides on how to best develop the land.The Malloyd Drain project would see the town improve its stormwater project, with the section by the Birds of Prey Centre starting late this summer/early fall. Craig said the second part of that project would be to re-commission the town's water reservoirs south of Coaldale, which would add 500,000 cubic meters of storage.
The upcoming RCMP building in Coaldale is also something he would like to see finished.  With the future home of the RCMP sign unveiling last week assuring people that yes, they are indeed moving in, Craig wants to be there when the building opens.
"It will be exciting to be a member of council when that sod turning happens, and ultimately, when the doors are open to the new building," said Craig. "The 2010 council worked hard on negotiations with the RCMP, and early in this current term, the current council passed a motion to move forward with RCMP policing, so this is just a continuum of that process of getting everything lined up and seeing the full vision of what the RCMP will bring to Coaldale, realized."
Craig said that over the past few terms, he believed that council had exercised "good financial management", and that they were in a position to allocate $1 million dollars for recreation, and in the next council term, councilors would be able to hear from community groups as to how to best allocate that money.
"That is exciting times, to actually be able to (show) the town through economic downturn in 2008 and the current recession, and still come out with a relatively robust financial position and be able to look at adding some amenities in our recreation portfolio."
Craig noted that every member of Coaldale town council was passionate about the community  "and mine is no less then everybody else's", and he would like to continue to give back to the community.
"Being on council the next term I think would be really exciting," said Craig. "I've been able to exercise good governance and leadership at the municipal level, over ten years, it's a proven commodity that I bring to the table, that I've been able to build consensus with a diversified council and work and get positive results."
Craig also pointed to his experience, with over 40 years of financial experience and connections for different groups, both local and provincial. Citing provincial organizations such as the Local Authorities Pension and the Alberta Capital Finance Authority, he said those bodies give him exposure to colleagues around the province, and gives him the opportunity to build relationships and find out what is going on municipality-wise across the province.
Additionally, Craig has had the opportunity to meet the premier, MLAs and cabinet ministers during his time as mayor.
"There's not many previous mayors that have been able to go forward and beyond these very esteemed provincial boards."
During his time as mayor, Craig said he believed he brought a "statesman-like-type presence" to council. Although there have been contentious issues in the community, he said he handled them with maturity and provided a calming presence while consensus over the years.
Craig was a little later then others to announce his candidacy, having chosen to wait until about a week before the nomination deadline to announce. However, he said that  traditionally, most candidates did wait until nomination day — which was Monday, Sept. 18. He also noted that the lead up to the election could also be "emotional", and believed that people would believe that unless he announced otherwise, he would run.
"Depending on your challenger and incumbent, people are divided, it's sort of a bitter-sweet thing," said Craig. "In a perfect world, they probably want to see both people be able to sit on council, and I don't think Coaldale is Toronto or Calgary, where you don't need to have a whole year, a big long, long campaign for seats on council."
In Coaldale, people can either run for mayor or council. After a mayor and six councilors have been chosen, at their organizational meeting they elect amongst themselves who would serve as deputy mayor for eight months and who would serve as deputy mayor next for the four-year term.
If you have any questions for Craig, you can contact him at kimatcoaldale@gmail.com or give him a call at 403-315-3468.