Coaldale seeking knowledge of World War veterans
Posted on October 3, 2017 by Sunny South News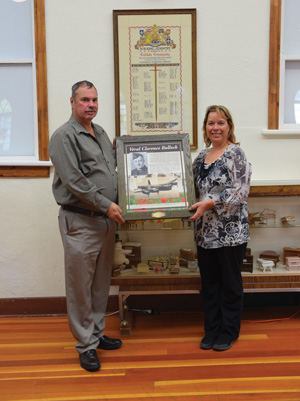 Sunny South Photo by Nikki Jamieson
By Nikki Jamieson
Sunny South News
Coaldale is putting out the call to find heroes of old.
As part of the "Our Stories of Service" project, Coaldale community services manager Cindy Hoffman is looking for photos and stories about Coaldale veterans who have served in WWI and WWII
"We have a list of names, we know it's probably not complete, so that's our starting point though,"  said Cindy Hoffman, community services manager for the town of Coaldale. "We don't even have first names for half of these people."
Around the time when Hoffman started working as community service manager, she came across a box, and in this box was a framed photo and brief biography of a WWII pilot, Veral Clarence Bullock.
Bullock was a Pilot Officer Bomb Airner attached to the #622 (R.A.F.) Squadron, who were part of the main force of Bomber Command. He was killed in action on Jan. 3, 1945, and is buried in Reichswald Forest War Cemetery in Kleve, Germany.
The bio had been done up by the Canadian Fallen Heroes Foundation and sponsored by the town of Coaldale. That inspired the idea to do similar frames for other Coaldale veterans. But although she doe have a list of names, there is little else to go on.
The goal of the project is to be able to identify the person behind those names. Ultimately, they are hoping to get photographs and a summary of that person's service, so help preserve and honour their sacrifice.
With a name, it makes it easier for people to remember these heroes, remember the history of the war.
"The thing is If I go to a school, go to Kate Andrews (high school), I can talk about this guy who won the highest medal from Toronto. 'Who cares?', goes a grade 10 student," said Glenn Miller, a speaker for the Memory Project of Canada. "Now what's your name? Okay Smith, I can tell you (about ) a guy, probably your uncle and I can tell you whatever the context is locally."
Miller says that right now, "there is no tool box" for them to find this information by themselves. Additionally, if people don't talk about it, that knowledge doesn't get passed on, and is lost.
"It's common since the Boer War, people didn't talk about their war time experience. So their wives don't know, their children don't know," said Miller. "And if the first generation of children don't know, how can they pass that on to their children?"
"I think it's so important for the youth in our community to realize that there's a lot of sacrifice done for us basically, and the way we live now," said Hoffman. "And I think a lot of them just don't understand what was given, and for me personally, I think it's really important that the young people bring this back to the forefront."
If you recognize one of the names on their list, or had a family member who was a veteran or a RCMP officer who served overseas, please contact Hoffman at 403-345-1324 at commserv@coaldale.ca.
You can also arranged to meet with Hoffman, either at her office or she could come and visit you.
Although they are taking submissions all year round, they encouraging people to get them in by the third week of October, so they can gather the information ad have it ready when the WWI anniversary goes next year.
"The legacy any community can best honour, the veterans who came to their community, is to know the veterans' service, sacrifice and commitment, and no better way then to do it know, when it's first hand knowledge., to preserve and share for future generations, let we forget," said Miller.
The following is a list of veterans' names that the Our Stories of Service project has. If you recognize someone who is on the list, of know of someone who isn't listed, contact Cindy Hoffman at 403-345-1324 at commserv@coaldale.ca.
WWI
Baldry, Robert E.
Bathgate, George
Bollands, E.
Bond, Frank
Campbell, Albert
Connelly, A.
Cunningham, Leo C.
Dale, A.L.
Fairhurst, Lyle Sr.
Gardiner, F.F.
Graham, Jack
Graham, William
Granfield, W.
Holberton, E.J.
Irvine, Morris
Key, A.W.
King, William
Lawrence, Robert
Long, Charlie
MacKay, Wm. M.
McCann, Earl
McCann, Mel
McCann, Orville
McLeod, A.M.
Melville, D.
Mitchell, Charles
Mitchell, Jim
Naylor, Jack
Newbold, J
Newbold, Mrs. J.
Onyfrychuk, P.
Orr, A.
Paulson, Paul T.
Perry, Harold
Priestley, Norman F.
Renfrow, Elmer
Richards, Edmund
Richards, Frank
Robertson, Alex
Roberston, Peter
Rogers, Ward
Sandever, Tom
Scott, Walter
Smith, G.E.
Smith, Stanley H.
Stitt, William
Suggitt, F.W.
Wade, Arthur
Warren, N
Warren, Mrs. N
Wilson, R.G.
Wooley, A.
WW II
Adams, Jack
Adams, R.B.
Anderson, W. Bruce
Anderson, Gordon
Anderson, James
Baldry, Wilfrid E.
Baldry, Arthur E.
Bond, Frank Jr.
Bond, Larry
Bond, Gerald
Bond, Richard
Baldwin, Joe
Berg, Isaac
Berg, Jake
Barg, Henry G.
Billings, N
Burton, Fred
Bohner, George
Buhlin, Averth P.
Bullock, Veral Clarence
Cluff, Clarence
Conner, John
Corey, Dorthy
Coutts, John C.
Dyck, Henry
Dyck, Peter
Durkozy, Peter
Emery, Jack
Epp, Ben
Ens, George
Ewert, John
Engel, Herbert
Foxall, J Earl
Field, Carson
Friesen, Nick
Friesen, Dick
Funk, H
Frey, Ronald
Foster, Jack
Friesen, H
Friesen, T
Green, Gordon
Gordon, Cecil
Gschaid, Louis
Graham, Lyle
Graham, Robert
Graham, Willis
Grunewald, Homer
Grunewald, Wally
Harder, Peter
Harder, Cornelius
Harris, Gallen
Hoad, Dora
Hoesom, Art
Huzuda, Mike
Habijanic, Victor
Hildebrandt, Peter
Hiebert, J.E.
Hubert, A.E.
Hiebert, H.R.
Irvin, Jack
Karp, Emil
Knapp, Stanley
Knapp, Harvey
Knapp, I.
Knapp, Chester
Koop, Jake
Kornelson, Wally
Kornelson, Pete
Kroecker, David
Kroekcer, J.C.
Lough, Edwin
Lavalley, Peter
Lavalley, Manuel
Lawrence, John
Langeman, Jake
Loewen, Ben
Loewen, John
Loewen, William
Mallalieu, William
Matsuoko, Tom
Mannington, Eric
Mantler, Abe H.
MacKay, W. Elmer
Martens, Jake
Meronuik, John
Nickel, John
Niessen, Peter
Odenvold, John
Ponech, Nick
Ponech, Pete
Ponech, George
Petranech, Gordon
Patapoff, Mike
Patapoff, William
Pankratz, Jack
Peters, Patsey
Peters, Bob
Peters, J.
Peters, George
Peck, Eugene
Pearson, Freddie
Poulson, Glen
Reimer, Peter
Robertson, Bernice
Robison, Murray
Regehr, Jack P.
Regehr, Peter F.
Russel, William
Rutt, Byron
Sandever, Johnnie
Sandever, Tommy
Sandever, Kathleen
Stokes, Dois
Stokes, Ry
Shologan, Peter
Smith, Floyd
Smith, Leon
Sverek, E.
Shrumm, Arthur
Slemko, Steve
Stanko, Mike
Tomasta, Joe
Thompson, Marion Jr.
Thorpe, Walter
Thiessen, J.
Thiessen, H.
Thiessen, N.
Thiessen, Frank
Thornton, Harold
Trencansky, Mike
Triska, Joe
Voth, Henry
Voth, Edward
Voth, William
Voth, Kay
Wade, Burton
Wade, William
Wall, A.J.
Wall, H.
Wahl, J.
Wills, R.R.
Wills, Roy
Wills, Gearld
Wills, Edna
Wills, Frank
Willms, Cornie
Willms, A.B.
Wiens, Frank
Wiebe, P.J.