Barons fire chief honoured for years of service
Posted on October 24, 2017 by Sunny South News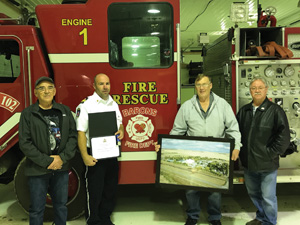 Sunny South News photo submitted
By Nikki Jamieson
Sunny South News
The Village of Barons has honoured their fire chief with a service award.
Barons fire chief Byron Fraser was presented with the Alberta Emergency Services Medal during the Baron Fire Department's open house on Wednesday, Oct. 11, to recognize Fraser's 12 years of service on the Barons Fire Department.
"It was good. It was special," said Fraser. "I thank the village for recognizing me, and hopefully we can have 12 more years."
Fraser first became a firefighter in Carmangay, Alta, over 15 years ago, fresh out of high school. After a few years he moved away from Carmangay, and became busy with his family. It wasn't until he moved to Barons that he rejoined the fire service.
"When I moved back out to the Barons area, It just felt right to offer my services and give them some help," said Fraser. "I knew what it was like to have a volunteer department and always need guys, and I had some experience, and some training. So I went and joined, and here we are now."
In 2010, Fraser became the Barons fire chief. This year, the Village of Barons counted up the years he had served on the Barons Fire Department, and applied for the medal on his behalf, presenting it to him last week.
In addition to the medal, the village also presented him with a picture of Barons.
"One of the councillors has a drone, and he took a picture of the Village of Barons. So they blew up a picture, and gave it to me just to show the dedication of the (village)."
The Alberta Emergency Services Medal was created by the Alberta Government, to recognize the province's emergency services personnel who give their time, talents and, in some cases, their lives to the service of others. The medal pays tribute to full-time, part-time, and volunteer members, who have committed 12, 22, 32 or 40 years of cumulative service in one or more of the eligible emergency response disciplines in Alberta, although it is not reflective of one's total years of service.
To be eligible for the medal, a person must have been serving on or after Jan. 1, 2000, in a sector of Alberta's emergency management system, and undertaken all required phases of their required training and duties, and be endorsed by their administration.