MADD kicks off holiday campaign
Posted on November 6, 2017 by Sunny South News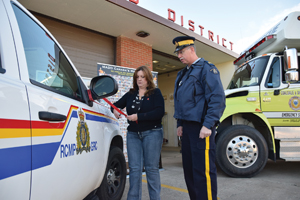 Photo by Nikki Jamieson
By Nikki Jamieson
Sunny South News
MADD kicked off its annual holiday awareness campaign last Thursday in Coaldale.
With the help of Coaldale RCMP staff sgt. Glenn Henry, Coaldale Mayor Kim Craig and Coaldale Fire Chief Kevin McKeown, the Lethbridge and area branch of MADD Canada kicked off Project Red Ribbon.
Project Red Ribbon is a holiday awareness campaign that runs annually from Nov. 1 to the first Monday of the new year, or to Jan. 1, 2018 this campaign, and was first started in 1998.
It is hosted over the holiday season, because it tends to be a very busy period for most people,and with the increase of parties, gatherings and celebrations, the risk of people driving while impaired is significantly greater.
"I think this is really a no brainer. We've seen carnage on our highways over the years. The messaging has been continuous, but still has to be kept up — that drinking an driving is never appropriate, especially around this time of year," said Henry.
"We've had — in the Coaldale area — five fatal collisions in the last year," said Henry. "That's five too many."
Although not all of those collisions were attributed to drunk driving, Henry says it is still very important to stress the message of don't drink and drive, and the MADD campaign is an excellent way to do that.
Project Red Ribbon has people wearing a red ribbon — either on themselves or on their vehicle — as a pledge to not drive while impaired. The ribbon is also a tribute to the thousands of killed or injured as the result of impaired driving.
"We do it for two reasons; we tie it on the vehicles in honour of the victims and survivors of impaired driving, and we also tie them on to remind people to drive sober throughout the holiday season or the rest of the year," said Anita Huchala, community leader for the Lethbridge and area branch of MADD Canada. "I'm hoping it will remind (people) to drive sober. If they're attending a party, to call a taxi, call a friend, call a parent, whatever the situation, but just all overall, remember to drive sober in the holiday season as well as the rest of the year."
The red ribbons for the project will be available in businesses and events throughout southern Alberta. Activities will be posted on the MADD Lethbridge chapter's Facebook page. For more information, visit maddchapters.ca/Lethbridge.