St. Joseph's School seeking donations for accessible playground
Posted on January 9, 2018 by Sunny South News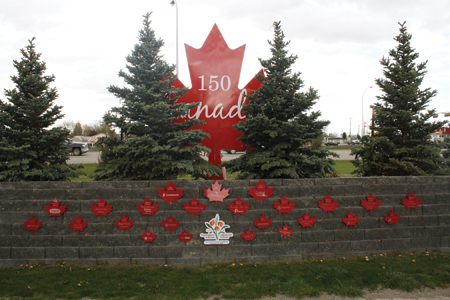 Sunny South File Photo
By Nikki Jamieson
Sunny South News
A Coaldale school is raising funds to make its playground more accessible.
During the regular Dec. 11 Coaldale Town council meeting, they were approached by a delegation from St. Joseph's School in regards to a donation towards a new playground at the school.
According to Sheryl-Ann Giacchetta, chair of the Friends of St. Joseph fundraising society, the current playground at the school is in need of redevelopment, to include things such as accessibility components.
"The Friends of St. Joseph School's objectives are to work with the community to make a play area that is safe, welcoming, healthy, clean and green, a play location that we can be proud of," Giacchetta said.
Noting that playgrounds are expensive to build, St. Joseph principal Val Leahy said that they had hired a grant-writer to help raise funds.
"Schools do not have money, we have a very limited budget. We are very thankful to the Friend's of St. Joe's, the fundraising efforts that they do for our school," said Leahy. "Having said that, playgrounds are expensive. We've looked at the budget with this, the playground is over $300,000."
The school's existing playground was built in 2003. However, it is not wheelchair accessible and is small. With 56 students in their early-learning program, two kindergarten classes and two grade two classes at the school this year, St. Joe's is starting to see some significant growth among their elementary level students, and is the "fullest we've ever seen".
"You guys know this — St. Joe's and Coaldale is growing," said Leahy. "We realize that our existing playground needs fixing up, it needs to be wheelchair accessible. We also realize that we need a larger playground."
In addition to the playground becoming accessible, the new components will be blended in to match the old. One of the newer components will be a teepee play structure and, according to documents provided, the school has a "First Nations worker who would utilize this as a teaching tool".
Additionally, the project would bring in some Canada 150 elements as well.
The delegation asked for two things from council: a letter of support for the grant-writer to use when applying for grants, and for a donation to the playground project.
"In order to get bigger grants, we have to have bigger money in the bank account," said Giacchetta. "By asking for funds from you, it helps us retain to more money for when we apply for our grants, to match in grants, because that is how we're going to be able to progress, without having to monopolize it all within the parents' fundraiser at the school."
"The cupcake sales that earn us $50, $60 a month aren't going to fund our playground," said Leahy.
"The larger the amount of money that we can have for matching grants, the more money we can apply for."
Coun. Bill Chapman asked them what their timeline for the project was. The plan is to raise the needed $300,000 by the end of summer 2018, with the project being built in the next two years.Coun. Hohm inquired if they were looking for a cash donation or an in kind donation from the town. Leahy said that they were looking for both, and "anything the town could do for us would be greatly appreciated".