The Sunny South News is proud to present insight
Posted on February 21, 2018 by Sunny South News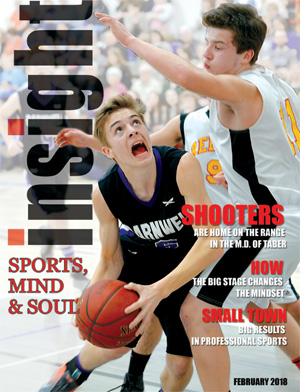 By Nikki Jamieson
Sunny South News
Hockey in the winter. Baseball is the spring. Soccer in the summer. Football in the autumn.
No matter what time of year it is, there is always at least one sporting season or event going on.
With the Olympics in full swing, the Sunny South News and its sister papers wanted to pay homage to all thing fitness, health and sports-related, in a group magazine special that is the first of it's kind for the southern Alberta weekly newspapers.
The insight magazine is the first of its kind for the weekly papers under the Southern Alberta Newspapers banner, and aims to offer insight into a topic.
The premiere issue is focusing on sports, mind and soul.
"We hope our readers enjoy our inaugural issue of 'insight magazine' – this is a new brand of publication that our newspaper group will publish on a more regular basis in the future, stay tuned for the next issue," said Ryan McAdams, publisher of Sunny South News.
"This issue has a sports focus, as we believe that sports brings all communities together, whether it be youth or adult oriented sports/fitness activities."
Inside this edition of insight, you'll read about the importance of playgrounds in getting kids active, debunking several fitness nutrition myths and hear from a sports sponsor about the importance of contributing to sports.
You can find your copy of insight with this week's edition of the Sunny South News, or included with this week's editions of Bow Island Commentator, The Taber Times, Vauxhall Advance and Westwind Weekly.
You can also pick up a copy at the Sunny South News office in Coaldale.