There's a new town around
Posted on March 6, 2018 by Sunny South News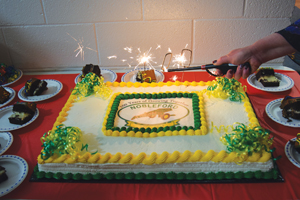 Sunny South File Photo
Nobleford granted town status at its 100th birthday celebration
By Nikki Jamieson
Sunny South News
It's the Town of Nobleford now.
During the former village's 100th Birthday celebration on Wednesday, Feb. 28, Nobleford mayor Don McDowell made the big announcement that the province had approved the change of status from Village to a Town, effective that day.
"I think it's pretty awesome, and especially being on Feb. 28, that makes it 100 years to the day," said McDowell. "
Municipal Affairs minister Shaye Anderson congratulated the new town in a letter informing them of the decision, which McDowell read to crowd gather at the Nobleford Community Complex that evening to celebrate the town's birthday.
"Based on council's December 19, 2017 resolution, I am pleased to provide you with a copy of Order in Council 28/2018, which changes the status of the Village of Nobleford from a village to a town, and changes the name to Town of Nobleford," reads Anderson's letter. "Your community has much to be proud of through its 100-year history, and the future looks very bright for the Town of Nobleford. Please accept my best wishes for your continued success."
In order to qualify for town status, a municipality must have at least 1,000 residents and submit a request to the province for the change. Nobleford's population has exceeded the 1,000-resident mark in both the 2011 and 2016 census.
McDowell said that once the houses in the new subdivision are filled, the town's population will stand at around the 1,600 mark, and there was still plenty of room for the town to grow.  The newly awarded town status will also help the community to be more appealing for businesses. McDowell noted that with the population decline a few decades ago, businesses left the town as well. Now that the population is growing again, he believes businesses will come back again.
"The town status gives us a little bit of power, if you will, to attract businesses, and that's really where our focus has been for the last three or four years, was trying to attract retail businesses to Nobleford," said McDowell. "Where are we going? As council we looked down the road ten, fifteen years, and we see us comfortably being 2,500 people here.
"This town status is important. It really is."
With the predicted growth, the new town is getting ready for it by improving their infrastructure. McDowell said this year they have a project going on with their sewage lagoons and upgrading their clean water storage in an $850,000 project.
"The people are going to come. They are going to move to Nobleford because it is absolutely a great place to live."
Although the name change is now in effect, Nobleford doesn't have a lot of signage to change. Although the sign on the town office will have to be changed, the sign coming into Nobleford simply welcomes you to 'Nobleford' rather then 'Village of Nobleford'. Although new cheques and letterhead will have to be ordered, along with changing 'village' to 'town' in land agreements and other official documents, McDowell said there would be 'minimal' change there.
The town's Centennial Committee will be hosting another celebration for the town's 100th year on August 10-12, as having a celebration in February in Canada can be "a little tough".