Steam traction engines are a pair of dream machines
Posted on March 13, 2018 by Sunny South News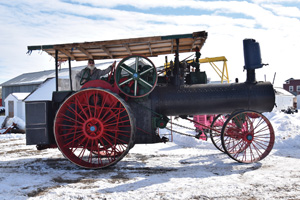 Local man dreamed of owning one for 50 years
By Nikki Jamieson
Sunny South News
Dreams do come true, even if you have to wait 50 years for it to happen.
Duane Dunn had wanted to own a steam traction engine since he was about 10 years old. Now, not only has he managed to acquire two of them, but anyone who visits the Prairie Tractor Museum can enjoy them too.
"It's a big event in my life. I'm really proud to own these engines," said Dunn, a founding member of the museum.
Dunn interest in steam engines started when he was young, and his maternal grandfather used to tell him stories about how big and powerful steam engines were and the thrashing crews that operated them.
Then when Dunn was in grade 6, the principal at his school noticed his interest and got him a reprint of a 1918 Case sales catalog.
"It was one of the best gifts I've ever got. I wore that book out. In the center page of that old catalog, there was a picture of a 65 horse Case steamer, or steam traction engine, that was in colour, and I'm only ten or 11 years old at this time, when I thought, 'Man, I'd sure like to have a 65-horse case'. It became my favourite engine, and now, 50 years later I finally own one."
It wasn't just any steam traction engine that he wanted; Dunn wanted a 1916 Case steam traction engine, just like in the catalogue.
Over the years, he kept looking for one, and finally, he hit the jackpot.
He frequented  a site called Smokestak, and in the classified ads section he came across two steam traction engines for sale, in the same year and model he wanted.
Not only that, both of the engines were certified with a 'A' number.
"It's important, it makes it much easier to have certified if the engine has a 'A' number," said Dunn.
"If you bring an engine in from the United States or out of province that does not have the 'A' number, it's just a whole big pile of paper work you'll have to do in order to have them registered and certified. It was just one big step that I didn't have to deal with."
The engines were in a estate sale out of Westlock, Atla.
One was a 1916 65-horsepower Case steam traction engine, that had ran out of a creamery in Montana, and was mechanical and steam powered.
The other was a 1916 55-horsepower Case steam traction engine that came from Vermilion, Atla.
"Being they were both Alberta engines — they had the 'A' number which is very important — I couldn't have found better engines anywhere. They were recently re-tubed, the fire tubes in the boilers had been replaced. They've both been re-piped, all the steam piping had been replaced. And they've both been ultra-sounded, which has to be done every fire years to meet the requirements of the boilers branch, to have them certified legal to operate."
The day he made the deal for the two engines he was just coming back from a show in Manitoba, and he was so excited he couldn't sleep.
"I was awake all night, I was just so happy, I'd finally found a steam engine. I knew one day, I'd have an engine, but I never thought I'd have two," said Dunn.
"In most cases over the years, when I heard of an engine being for sale, one of three things would happen; by the time I'd heard of it, it would already been sold, or two, I wouldn't have any money, or three, the engine was in such rough condition it would cost a fortune to make it run again. So I was very fortunate to find these two engines."
These are the first steam engines Dunn has owned, although he has a collection of early Case tractors and other makes dating back to 1913, which he started collecting since he was 16 years old.
The two engines will be stored at the museum and will be take part in their tractor pulls, Harvest Days celebrations and other events.
The new steam engines will be two of the oldest machines at the museum.
In order to  operate the engines, Dunn needs to take a special steam course. As other members of the museum were interested in taking one as well, the museum will be holding a two-day Heritage Boiler Association Steam Course on March 24-25. For more information, contact Darwin at (403) 345-3867.