Coaldale annexation request approved
Posted on March 27, 2018 by Sunny South News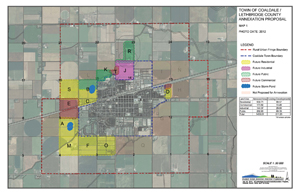 Sunny South graphic submitted
By Nikki Jamieson
Sunny South News
Next week, the Town of Coaldale is going to be a little bigger.
Earlier this month, Coaldale town council announced that the province has approved their annexation application. The annexation will become effective as of April 1, 2018, at which time the town will start providing services to the newly annexed area.
The approval was granted in late February this year. The annexation project dating back to 2015, when the town and county first began discussing it and a growth study was initiated. When that was completed in 2016, the two municipalities began discussing more in depth over what land would be annexed, and in April 2017, the town sent in the application to the province.
With the annexation set to come into effect on next month, the town has been given considerable room to expand. The news comes just in time, because the town is running out of places to expand.
"As of today, we have around five years of growth left, in terms of the vacant land that developable but not yet developed. So we don't have a lot of time in broader planning terms — five years isn't that much time. So even on the long end of it, if it took ten years to develop the land that's on the town's boundaries, that's a fairly short time period," said Spencer Croil, director of planning and development for the town. "We needed to acquire more land, so we could plan for the approximant doubling of population between now and 2041."
As of the 2016 census, Coaldale's population stands at 8,215. With the town expected to double within roughly the next 25 years, Croil said they needed more land to accommodate the influx of people and jobs.
The 25 years mark is a "conservative number", as the province, through things such as the Southern Saskatchewan Regional Plan, is having municipalities to develop at higher densities — through measures such as smaller lots, secondary suites n family homes or promoting multi-family developments like townhouses — meaning Coaldale could see up to 35 years of growth from the annexed land instead.
Currently, the town is about eight square kilometers. With the annexed land, it will increase to 14 square kilometers.
Although the overall town boundary has increased, most of the additional land will be found on the west side of town. Croil says that although the newly annexed land will be used for different purposes, the town hopes to increase their non-residential tax base.
"We've historically had a high ratio of residential to non-residential taxation and land use. So, up until this year — or potentially last year — we had about a 90-10 split, with residential being about 90 per cent of our tax base, non-residential — so industrial and commercial and institutional — being the other 10 per cent, which isn't necessarily great for a long-term growth and sustainability of an area," said Croil. "We're trying to get to a about an 80-20 split — 80 per cent residential, 20 per cent non-residential. Which generally creates a healthier balance between residential and non-residential tax."
In addition to residential and non-residential properties, some of the land will be earmarked for utilities, storm ponds and public space such as the new Malloy wetland.
For more information on the annexation approval, visit http://www.coaldale.ca/services/planning-and-development/annexation/