Anne-Arky center stage at Picture Butte High
Posted on April 24, 2018 by Sunny South News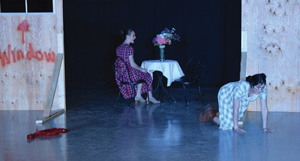 Sunny South Photo by Nikki Jamieson
By Nikki Jamieson
Sunny South News
Picture Butte High School students will be staring in a fine arts production this week, and you can bet there will be plenty of 'Anne-Arky' afoot.
Anne-Arky is a play about a high school drama club putting on a production of the beloved classic, Anne of Green Gables.
"It's a play on words really," said Mark Ogle, director and stage manager for the play.
"It's a group of high school students putting on 'Anne of Green Gables' on, but it is all the backstage things that happen. Through miscommunication, they think there's an acting agent showing up, so they all think they're going to get famous, so they all start acting crazy, doing things they normally wouldn't.
"It's a play within a play. We see all the backstage stuff happening, while they're performing Ann of Green Gables."
The one-act comedy runs approximately 45 minutes, and is composed of students in grades 7-9. Ogle said he had previously performed the play while he was in high school, so it was a "nice homage to my theatre days as well".
Noting that it can be hard at smaller schools to get interested students and a play that fits their needs and resources, Ogle said he wanted the students to just have fun with it.
"They have been working so hard on everything, they have been doing an amazing job," said Ogle, adding they were less nervous about opening night then he was.
"We have such a good junior high school here, that they rise to the occasion on whatever they do, whether it is activities and a pep-rally, or just simple classroom activities, they always do well.
"I'm proud of them for all the work they've done, and their mood to it is they might be a little nervous, but they're going nail it when they perform."
Anne-Arky is the second fine arts performance Ogle has run at PBHS in the last three years. He hopes to build up the fine arts program at the school, and hopes to make it an annual performance.
"I think it's a create outlet for kids creatively, I think it's a really good outlet for kids who don't want to play sports to have something they can do and showcase what they can do for other people."
Anne-Arky goes April 24, 25 and 26 at 7 p.m.
An additional show will go April 25 at 5:50 p.m.