County welcomes new engine at the Coaldale Fire Department
Posted on May 1, 2018 by Sunny South News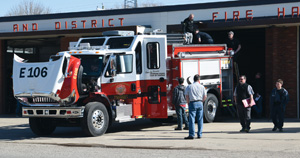 Sunny South Photo by Nikki Jamieson
By Nikki Jamieson
Sunny South News
The Coaldale and District Fire Department just welcomed a brand new county engine.
The truck arrived on Tuesday, April 24, at the Coaldale Fire Department. The engine was purchased by Lethbridge County and will be used to respond to calls in the county.
The new fire engine is replacing the county's old engine at the department, as part of the county's fleet replacement.
"It's not every day you get a brand new piece of apparatus," said Kevin McKeown, fire chief for the town of Coaldale. "These engines are typically changed out and replace every 20 years, so we do have a Lethbridge County engine that's a little bit over 20 years old, it's starting to have some mechanical issues, we're starting to have to put a little bit of money into it, so having a brand new piece of apparatus is going to make our jobs a little easier."
Fire engines typically need replacing every twenty years. The old engine was 21 years old when it's replacement arrived, as it took a year to build once the county placed the order.
Although he joked that they might have some trouble getting the truck into the fire hall due to it's size, county Reeve Lorne Hickey said he was glad to see to arrive.
"It provides better service, new equipment, it provides way better stuff for the volunteers who work with it everyday, and there safety is foremost on our mind everyday as well, because they're the ones who have to go out and deal with the situations, make sure they have the best equipment available," said Hickey. "Without the volunteers, we don't have anything."
While the old engine had a crew-cab design, the new engine has a custom-build compartment that can seat four firefighters with their breathing apparatus, and doubles as the pump operator's control panel. As the compartment is enclosed, it protects the firefighter from the elements and allows them to focus on operations while they're fighting fires.
Compared to fire engines earmarked for the town, Darryl Beaton, emergency service coordinator for the county said they needed to make sure it had a bigger pump and could hold more water, as it can be hard to find water in the country sometimes.
"It's not the first one of this design in our fleet; we have others that are this configuration in the fleet and it's just proven to be a good design for us," said Beaton.
"We happy to replace the old engine 106, it was time."