Coaldale RCMP looking for information on theft of local fireman's protective equipment
Posted on May 22, 2018 by Sunny South News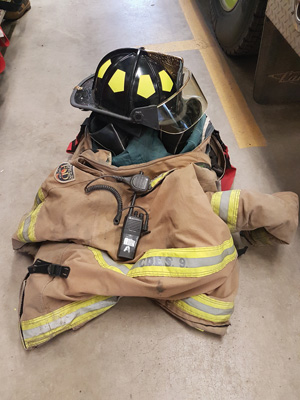 Sunny South Photo submitted by Coaldale RCMP
By Nikki Jamieson
Sunny South News
Coaldale RCMP are looking for information regarding the recent theft of Coaldale firefighter's protective equipment.
Sometime between the evening of Friday, May 11, and the morning of Saturday, May 12, someone broke into the garage of a Coaldale and District Firefighter. The firefighter was on call that weekend, and had parked a Coaldale Fire Department truck in his garage with the equipment inside. The culprit(s) broke into the garage, and stole from the truck; a set of bunker gear, boots, one black helmet, one Motorola radio and some assorted tools.
"That fireman was on call for the Coaldale and District fire department, and someone entered the garage, entered the fire truck and stole the fireman's protective equipment," said staff sgt. Glenn Henry, Coaldale RCMP. "What we're hoping is that the public can assist us in identifying somebody who may have these particular items, they're really important in that our fire personnel need this protective equipment to do their jobs. They do it for the safety of our community, so it's important to get this stuff back."
The Coaldale RCMP asks that anyone with any information on this break, enter and theft to please call the Coaldale RCMP directly at (403) 329-5080 (rural) or (403) 345-5552 (municipal).
If you have information but wish to remain anonymous, you can contact Crime Stoppers by phone at 1-800-222-8477 (TIPS) or online at http://www.tipsubmit.com.
You do not have to reveal your identity to Crime Stoppers, and if you provide information to Crime Stoppers that leads to an arrest(s), you may be eligible for a cash reward.
"The goal here is to get this equipment back and to identify those responsible so it doesn't happen again."