Birds of Prey Centre opens new amphitheater
Posted on June 27, 2018 by Sunny South News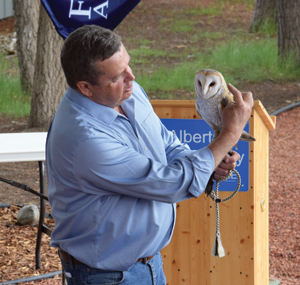 By Nikki Jamieson
Sunny South News
Owls in Coaldale have a new stage to shine on.
The FortisAlberta Owl Amphitheater officially opened at the Birds of Prey Centre in Coaldale on June 19.
The amphitheater will be used deliver interpretive programming focusing on owls, mainly for school visits, and can seat up to 100 people.
"Every time FortisAlberta helps us out, it's like another quantum leap in the quality of the facilities we have. That really enriches the experience that we have for these school children," said Colin Weir, director of the centre.
"We've got an all-weather facility where we can do programs about owls, regardless of how hot our summer days are or if it's raining, it's really good for all weather protection for when our visitors come through."
It took about three years for the amphitheater to be completed, and Weir said it cost about $250,000, with FortisAlberta contributing $200,000 to the project.
The covered amphitheater will provide shelter from the rain and sun not only for visitors, but for the owls as well.
Owls are particularly sensitive to light and heat, so the venue is designed to help protect them during one of southern Alberta's infamous sunny days.
In addition to the amphitheater opening, FortisAlberta's vice-president of customer service, Todd Dettling, presented an annual sponsorship cheque for $50,000 to the centre.
The cheque was the latest in a series of cheques from the electrical distribution network owner and operator for the project, and contributes to the centre's wildlife program.
"For FortisAlberta, it's about being involved with the communities that we serve, and the birds of Prey Centre is about in the heart of our service area, and being a rural electric service provider in Alberta, it just fit in with the themes that work for us, and doing things that were mutually beneficial for both parties," said Dettling.
"Our goal is to educate children in powerline safety, and this is just an extension of education for children in the community. I think this is just a great addition."
FortisAlberta has been supporting the Birds of Prey Centre for the past 15 years. Their partnership with the centre has helped Fortis create best practices to prevent tragedies between birds and powerlines.
"The interface between birds and powerlines can be quite challenging, and we've learned a lot together with the Birds of Prey Centre on how to protect the birds of prey by installing different types of devices that basically deter birds from making contact with our powerlines."