Next stop, Coaldale: province announces Highway 3 bus route
Posted on July 31, 2018 by Sunny South News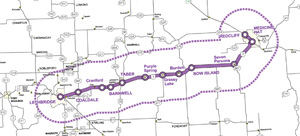 Sunny South graphic submitted
By Nikki Jamieson
Sunny South News
A provincial pilot program will put Coaldale back on the bus route.
In an announcement last Wednesday in Medicine Hat, Premier Rachel Notley has announced $700,000 in funding to a new Medicine Hat/Lethbridge shuttle bus project, connecting 12 communities in the region and providing public transportation to 27,700 people who currently have no transit access.
The daily route will follow along Highway 3, with planned stops in the communities of Redcliff, Seven Persons, Bow Island, Burdett, Grassy Lake, Purple Springs, Taber, Barnwell, Cranford and Coaldale.
The bus route is a part of the Alberta government's Rural Transportation Pilot Program, which aims to improve public transportation services between Alberta's mid-sized urban centres and surrounding communities.
"The idea of rural bussing has a lot of promise," said Kim Craig, mayor of Coaldale. "There is a lot of discussion about bussing and that, like do we want to have buses leaving Coaldale and potentially have people shop in other places, but I don't think isolation is a very sound economic development plan. There's lots of points on the proposed bus route; people might choose to come to Coaldale to visit family and friends too, right? I think it will be a two-way street, there might be different people that weren't really able to access proper transportation, that might have loved to visit in Coaldale before. Now they might have that opportunity as well."
Currently, the Coaldale & District Handi-bus Association services Coaldale residents in need, and although it does make some trips to Lethbridge, there are no other public transportation options in the town. Craig says that as the rural busing pilot advances, there may be "opportunity to have some synergy" between the two programs.
Greyhound, which made headlines earlier this month with their announcement to stop busing services in rural areas in Western Canada after Oct. 31, has not operated out of Coaldale for a few years. Premiers from across Canada have joined Notley in asking the federal government to pay Greyhound to continue its existing runs into 2019, so that the provinces can devise regional and inter-provincial routes for passengers about to be abandoned by the longtime carrier. Lethbridge East MLA Maria Fitzpatrick said that the Alberta government had been planning the pilot projects before foreign-owned Greyhound announced they were pulling out of Alberta.
Craig noted that the announcement and pilot program are still very new, and he is looking forward for more details.
"The government didn't talk to me, anyone in Coaldale this far with respect to where the bus stop or depo will be in Coaldale, and the costing and scheduling, so I look forward in seeing more details on that," said Craig. "Obviously, with a pilot project, if everything is put together soundly and on a good basis, hopefully the ridership will be there to sustain it and make it a viable service."
In addition to the Medicine Hate/Lethbridge route, the province announced that another new bus route in Red Deer County — connecting the City of Red Deer with Springbrook, Penhold and Innisfail  — is receiving $700,000 from the province to offer service for 11,000 local residents who currently have no public transportation.
The pilot program was originally announced in June, with the announcement of grants three bus routes: the City of Camrose will receive two grants, than $450,000 to establish a regular bus shuttle service between Camrose and Edmonton and more than $137,000 to hire a regional transit coordinator who will oversee ride-sharing opportunities in the area; a grant of nearly $640,000 to Grande Prairie County, to provide a regional transit service to connect Sexsmith, Clairmont, Wembley, Beaverlodge and Hythe with the City of Grande Prairie's existing transit system; and the Municipal District of Spirit River will receive $200,000 to expand their existing Family and Community Support Services Transportation program van service between Spirit River, Rycroft and Grande Prairie from one day a month to three days a week.
"Our government knows viable rural transit is what connects many Albertans to work, school, vital health care, family and friends. That's why our Rural Transportation Pilot Project is so important," said premier Rachel Notley in a press release.  "We've worked closely with regional governments to get this investment right, and I am so pleased to announce these new transit options to connect Albertans across our province."