Coaldale-Lethbridge Community Growing Project's harvest beats weather forecast
Posted on August 28, 2018 by Sunny South News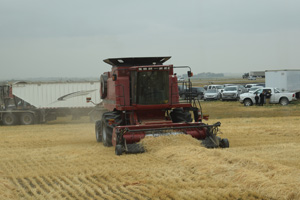 Sunny South photo by Nikki Jamieson
By Nikki Jamieson
Sunny South News
Despite the threat of rain, the Coaldale-Lethbridge Community Growing Project's harvest was a success.
Combines hit the field east of the town of Coaldale by mid-morning on Friday, Aug. 24. Although the actual harvest wasn't due to start until 1 p.m., organizers felt that they should start right away due to the day's less then ideal forecast.
"This morning at seven o'clock, Edgar Dueck called me, and he said 'Larry, I think we need to get started earlier because the forecast'," said Larry.
"Rain was in the forecast all week long at about 40 per cent chance, starting at one o'clock, and at nine o'clock it was misting a little bit in some places, and we were out at the field here at 8:30, and Edgar and I, we both looked at each other and thought, 'How are we going to get this done?'."
A total of 18 combines quickly descended upon the field to harvest the barley, wrapping up by 1 p.m. Penner reported that the yields on the grain monitors in the combines are 125-160 bushels per acre, which he called "stunningly unbelievable".
The Coaldale-Lethbridge Community Growing Project will donate the proceeds of their harvest to the Canadian Foodgrains Bank.
Noting that people tend to be more aware of the emergencies situation that the Foodgrains Bank helps, George Lubbert said that a lot of the funds raise also go towards helping farmers in developing countries become more resilient, self-efficient and self-sustaining when producing their own food, in projects such as the Conservation Agriculture Project, which stresses the three principals of conservation agriculture; keeping the land covered as much as possible, using a good crop rotation and do minimal tillage.
"Most of these farmers in these countries and many other third-world countries farm about one or two acres, sometimes even less then that. If the soil remains healthy, if it rains at the right time and insects and disease don't affect the crop, most of the time they produce just enough to feed their families," said Lubbert.
"When soil loses their fertility when draught happens, when pests infect the crop, then they can't even produce enough to feed their families. So conservation agriculture helps reduce soil erosion, increase soil fertility and helps protect against pests."
Lubbert got to see this in program work firsthand in November 2017, when he got traveled to Kenya and Tanzania to see some of the Foodgrain's conservation projects firsthand.
"It takes a great deal of courage for these farmers to try new projects and new techniques, because you got to remember, as I said earlier, most of the time they're barely producing enough to feed their families. So somebody comes along and says, 'Hey, maybe you should try this', well if it doesn't work, then they're not going to be able to feed their families. So again, it takes a lot of courage and a lot of motivation for these people to try it," said Lubbert.
"There was one farmer in Tanzania that I met, and he had been growing maize — which is corn, their a staple crop — for about 15-18 years in the one spot and sometimes two crops a year, and this continuous cropping has depleted the soil fertility. So the Conservation Agriculture people came and suggested, 'Why don't you rotate with some legume crops, like beans of some sort?'
"So he did that, and actually what happened was by putting the legumes crop in rotation with the corn crop, we've now increased the soil fertility enough that his corn crop was large enough again, so he could continue to feed his family and actually had a surplus to sell to send his kids to school."
The conservation project is about halfway through it's run, and currently serves 21,000 farmers.
The Coaldale-Lethbridge Community Growing Project has been running for 12 years. The Canadian Foodgrains Bank  is a partnership of 15 church and church-based agencies working together to end global hunger. In 2016-17, Canadian Foodgrains Bank helped over 900,000 people in 35 countries. This year is the 35th year in existence, and has raised almost $1 billion to help those in need around the world. For more information, visit http://foodgrainsbank.ca