Picture Butte and Area Growing Project has a successful harvest
Posted on September 4, 2018 by Sunny South News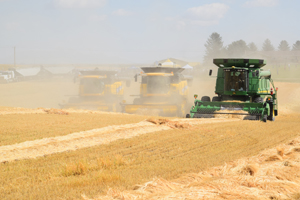 Sunny South File Photo
By Nikki Jamieson
Sunny South News
Sunny skies made for a great day for the Picture Butte and Area Growing Project's harvest last Thursday.
Although rain earlier in the week threatened to postpone the harvest, a huge crowd turned out at lunchtime on Aug. 30, to see 22 combines harvest two 80 acre fields acres of barley.
Andre Visser, southern Alberta coordinator for the Canadian Foodgrains Bank, which the growing project supports, noted that yields seem to be around average, which is good considering how dry the summer has been.
"The grain is dry, and the barley will go to the feedlots here. Feedlots have been purchasing the grain for prices well above market — which really helps the Foodgrains as well," said Visser.
The two fields where the Picture Butte and Area Growing Project was located this year belonged to Lew and Wil Dooper. While they have participated in the growing project before, this year was the first time they donated the use of their land for the cause.
"I think it is for a good cause," said Lew.
"We all live on this world, and we're all together and people got to eat. Some of them are more fortunate then others, well, this is one thing to try to even it out a little bit."
In 2016-17, the Canadian Foodgrains Bank has helped over 900,000 people in 35 countries get enough food to eat. Visser said that they have spent $3 million in South Sudan, helping people fleeing the war, and have been helping people in Syria, Lebanon and Jordan.
He also spoke about the Conservation Agriculture program in Ethiopia, Kenya and Tanzania, where they have been helping 29,000 farmers — with the goal of training 50,000 — increase their yield through conservation agriculture techniques, such as keeping the land covered as much as possible, using a good crop rotation and doing minimal tillage.
There are 250 growing projects throughout Canada, with 39 in Alberta. Proceeds from the sale of the Growing Project's crops go towards the Canadian Foodgrains Bank, who then in turn use that money to send food to places of need, or help in projects such as promoting sustainable farming techniques.
"Farmers get together and they grow a crop together, and they donate the proceeds to the Canadian Foodgrains Bank, and it really builds community. Everybody working together toward a common goal, to end hunger in this world," said Visser.
"There is still too many people who do not have enough food in the world, and this way, farmers can do something together, you know, and make a difference. And it really makes a difference."